The INEOS Grenadier Debuts At The Goodwood Festival Of Speed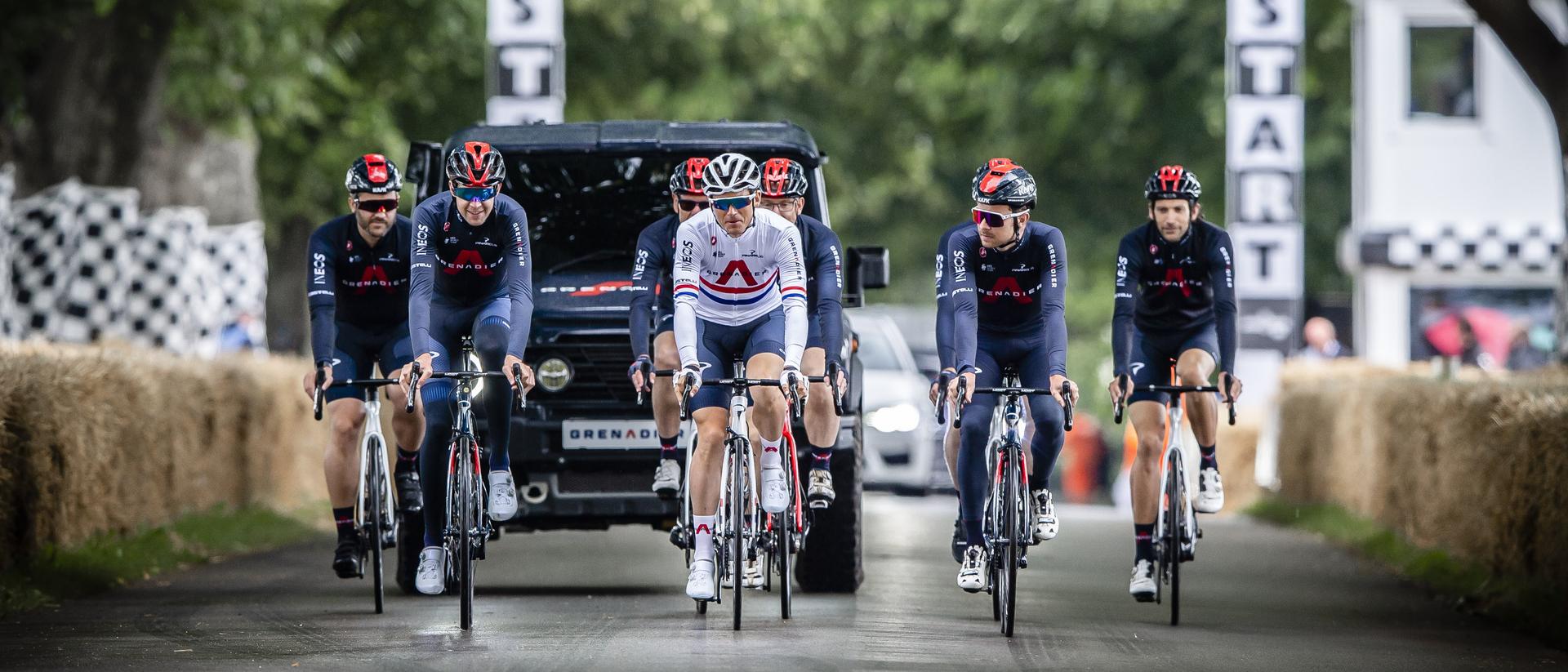 15 July 2021
The INEOS Grenadier debuts at the Goodwood Festival of Speed – with a peloton of cyclists
At 10:25am on Saturday, July 10th, the INEOS Grenadier was not alone when it made its way up the Goodwood Festival of Speed's iconic Hillclimb. 
Driven by ex-F1 driver, Esteban Gutierrez, our 4X4 followed a peloton of cyclists that included riders from the INEOS Grenadiers cycling team. 
Out in front of the vehicle were British Olympic gold medalist, Owain Doull, emerging Belgian star, Laurens De Plus, and British road race champion, Ben Swift.
It's a formation the Grenadier is used to. Our 4X4 supported the INEOS Grenadiers cycling team throughout the cycling Grand Tours of 2020 and 2021, clocking up over 50,000 miles in the process. This, of course, is an important part of the 1.8 million miles the Grenadier is covering during testing.
Grenadier's interior revealed to the public for the first time
This Goodwood 'Moment' with the cycling team was preceded by an exciting milestone in the Grenadier's journey – the first public viewing of its newly-unveiled production interior.
On Thursday, we opened our 4X4's doors to eager and curious visitors to Goodwood's First Glance Paddock. The Grenadier attracted much attention, not least because it towered above the low-slung supercars and luxury coupes. But if people were drawn by its exterior presence, it was its interior that they really came to see. And what a reception it had.    
Over the past few days, we were delighted to read positive comments from both members of the public on social media, as well as from journalists in the motoring press. 
And they weren't the only people to deliver their verdict. Head over to our Instagram page and you'll see a video of three of our peloton riders inside the Grenadier, instead of in front of it. 
They swapped their hard racing saddles for the Grenadier's comfortable and supportive Recaro seats, to give us their first impression of the Grenadier's interior. Needless to say, the Grenadier's special 'cycling toot' went down particularly well amongst an audience used to being exposed to unfriendly car horns on a regular basis. 
The cycling horn is just one of the features you'll uncover as you explore coverage of the Grenadier's interior from the past week at Goodwood.