INEOS GRENADIER HYDROGEN FUEL CELL DEMONSTRATOR TO BE DEVELOPED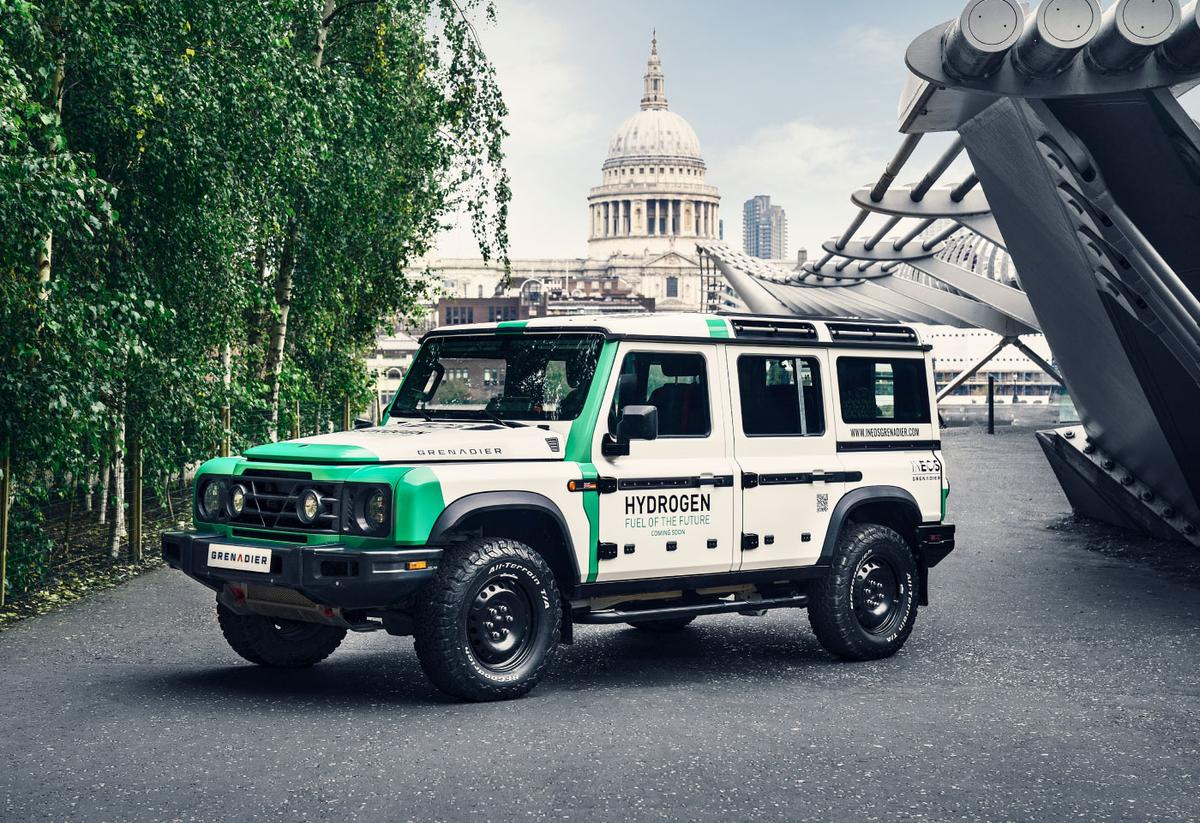 18 October 2021
ZERO EMISSIONS GRENADIER CONCEPT TO BE ON THE ROAD BY END OF 2022
The first Grenadiers will start to reach customers in the third quarter of 2022, powered by the latest petrol and diesel engines from BMW. But INEOS is also looking further ahead to zero emissions powertrain technology for the future. The company has announced that a hydrogen fuel cell demonstrator vehicle is under development and will begin testing by the end of next year, as part of INEOS taking a leading role in the hydrogen revolution.
POWERFUL PARTNERS
To develop the demonstrator model, INEOS Automotive is partnering with AVL, one of the world's leading automotive powertrain engineering specialists. 
ZERO EMISSIONS OFF-ROADING
Of the zero emissions technologies being evaluated for future introduction in the Grenadier, the INEOS Automotive team believes that hydrogen fuel cells is the most attractive.
When enabled by sustainably produced green or blue hydrogen, fuel cells are a very clean way to power vehicles capable of long range between rapid refuelling stops. And they also offer significant weight advantages over battery electric vehicles.
Of course, critical to any future alternative-fuel powertrain is that it must retain or even enhance the Grenadier's performance and capability. There will be no compromising the vehicle's Built on Purpose philosophy.
DELIVERING HYDROGEN INFRASTRUCTURE 
As a global chemical company, INEOS already produces over 400,000 tonnes of low carbon hydrogen a year. With the expertise to make it, capture it and store it safely, INEOS is uniquely positioned to be at the heart of green hydrogen development. The last piece of the puzzle is to create a hydrogen infrastructure to support widespread adoption, and INEOS is campaigning hard to make sure this gets done.
There is a global drive to net zero emissions and to meet targets set by countries around the world. The team behind the Grenadier fully supports this mission and the fuel cell demonstrator vehicle is a big step in the right direction.