TAO GEOGHEGAN-HART WINS THE GIRO D'ITALIA FOR THE INEOS GRENADIERS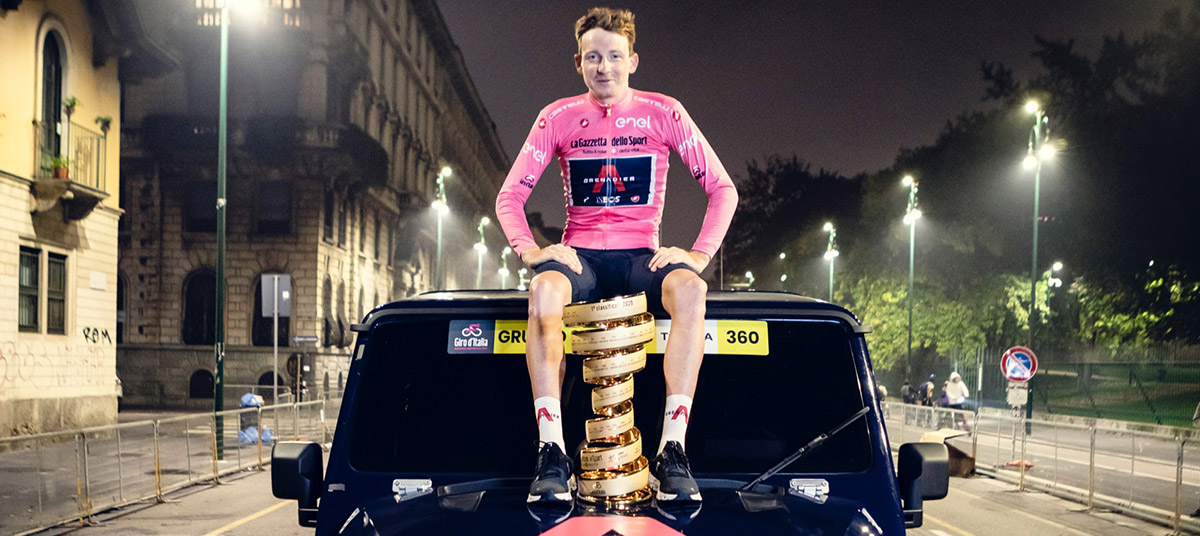 In a victory hailed as 'the stuff of dreams' by Team Principal Dave Brailsford, 25-year-old Tao became the fourth Brit to win a Grand Tour for the INEOS Grenadiers.
Geoghegan-Hart was originally in the team to support Geraint Thomas's quest for the title. But after Thomas crashed out on the third stage, the young Londoner rose to the challenge. His victory made headline news across the world, showcasing the signature passion and grit of the INEOS Grenadier team.
Competing at a Grand Tour
The Giro d'Italia is one of the most prestigious races in elite cycling. But don't be fooled by the stunning scenery – this Grand Tour is one of the world's toughest events too. To clinch victory, the eight INEOS Grenadiers had to stay strong for the full three weeks. But the hard work paid off, with a win worthy of the history books.
How the INEOS Grenadiers achieved victory
Brailsford took particular pride in the way the team bounced back from the disappointment of Thomas's withdrawal:
"What I really, really liked about this was the way that everybody rode. Obviously it was devastating when Geraint crashed out. But we thought, let's get out there and race. And that's what they've done and they've just smashed it."
That spirit of rugged determination is shared with the Grenadier. An early prototype served as a support vehicle for the team: carrying bikes, essential kit and supplies. The INEOS Grenadiers relied on the vehicle during every stage of the race, and it became a key member of the team.
Only the best support vehicle for The INEOS Grenadiers
As well as supporting the team, the Grenadier became something of a lucky charm too. According to Tao, spotting the vehicle around the course gave riders a daily lift as they suffered through the gruelling stages.
IT WAS LOT OF FUN HAVING THE GRENADIER OUT ON THE ROAD WITH US. EVERY DAY WAITING TO SEE WHERE THEY'VE MANAGED TO NAVIGATE TO. IT LOOKS TOUGH AND RUGGED AND I CAN'T WAIT TO DRIVE IT MYSELF.
Just like the vehicle, there's plenty more to come from Tao and the team. And the Grenadier will be there to support them every step of the way.