INEOS Automotive Reveals Interior Design of The Grenadier.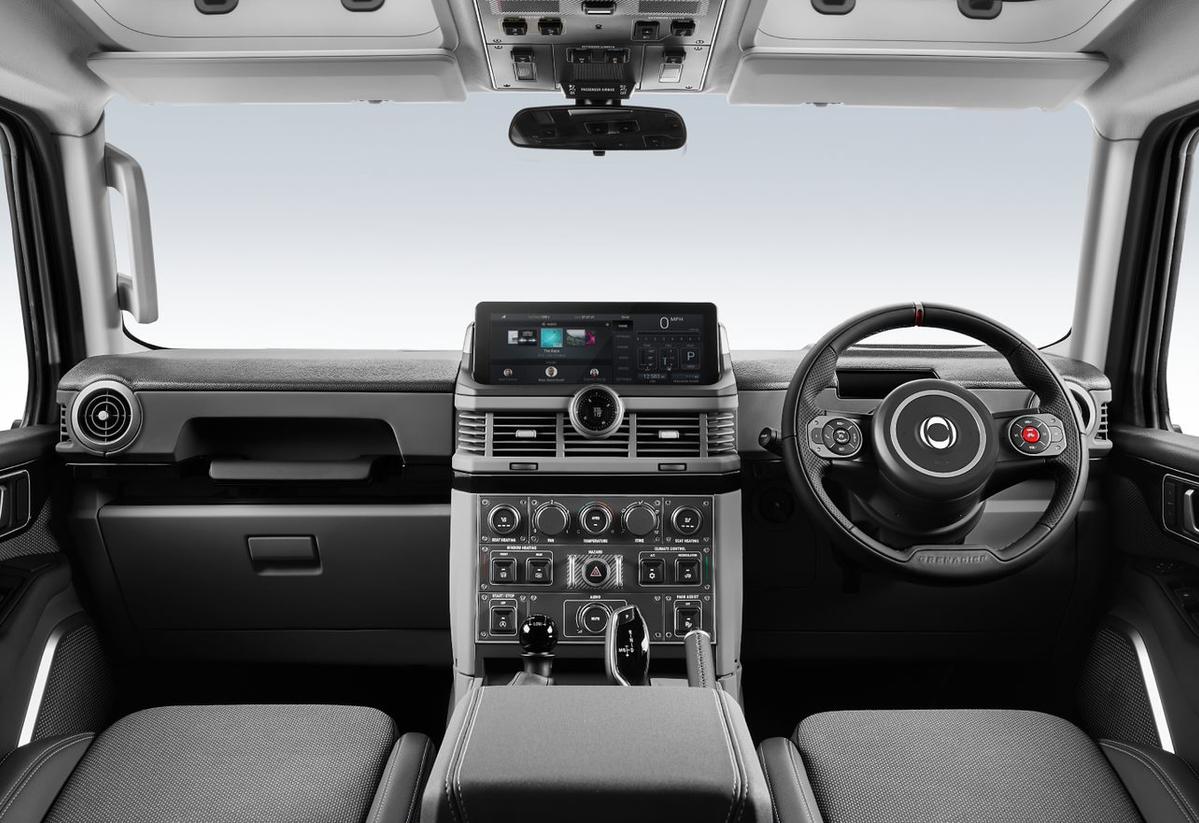 07 July 2021
WE'VE REVEALED THE GRENADIER'S INTERIOR
The build-up has been quite something – with many waiting, eagerly anticipating the inside of the Grenadier since its
exterior was revealed
 to the world in July 2020. But the suspense is finally over. We can finally tell you about the Grenadier's interior.  
With the same design ethos of the exterior, the focus is on practicality and utility. At the same time, you'll also find all the comfort, refinement and technology you'd expect from a modern vehicle. 
And perhaps a few unique features you wouldn't. These include a second horn specially designed to be quieter and more subtle for cyclists and pedestrians. There's also a 12 o'clock marker on the steering wheel, so that you always know exactly which direction your wheels are turned – very useful when performing intricate off-road manoeuvres.  
Perhaps most importantly of all, the Grenadier offers a unique off-road navigation system. On normal roads, you'll be able to rely on always-up-to-date smartphone navigation, thanks to Apple CarPlay and Android Auto integration with the Grenadier's infotainment system and 12.3-inch touchscreen. But when you leave the road, the Grenadier's Pathfinder navigation system will allow you to record, share or follow your route via waypoints.  
So, for example, you'll be able to build an off-road route online, using GPS coordinates (as opposed to map data), save these to a USB stick, then plug it into your Grenadier, which will then guide you. Or you'll be able to mark waypoints on your way – and the Grenadier will show you the way back.
How did we approach the overall design of the Grenadier's interior?
Toby Ecuyer, our Head of Design, explains. "When we started thinking about the Grenadier's interior, we looked carefully at modern aircraft, boats and even tractors for inspiration, where switches are sited for optimal function, regular controls are close to hand, auxiliary ones are further away," said Toby Ecuyer, Head of Design. "You can see the same approach in the Grenadier: the layout is functional and logical, designed with ease of use in mind. It has everything you need and nothing you don't." 

So don't be surprised by the Grenadier's cabin layout. The idea is that many of the dials and controls can be shared by you, the driver, and your front passenger, or co-driver.  
Not only that, the dials and switches are well-spaced and clearly labelled, to make them as easy to use as possible, even with wet or gloved hands.  

Auxiliary switches have been built into an overhead console, pre-wired so you can add – and control – winches, work lights and other off-road accessories. 

Hard-wearing materials and wipe-down upholstery mean that the Grenadier is designed to last. Removable rubber flooring and drain plugs beneath the footwells and cargo area can be hosed down. Water-resistant, anti-stain Recaro seats provide deliver practicality, ergonomic support and comfort, on or off the road. Carpets and leather upholstery will be available, if you're aiming to leave the mud and sand outside.

We've maximised stowage space, too, with a dry storage box under the rear seat, lockable central console space and side-mounted storage in the cargo area. You'll also find cup holders in the front and bottle holders in the back.

There'll be a range of interior options and accessories to choose from, depending on your preferences. You'll be able to have glass roof panels above the driver and front passenger seats, for example. Panels you'll be able to remove and store, so you can be open to the sky, weather permitting.