INEOS GRENADIERS LAUNCH AHEAD OF TOUR DE FRANCE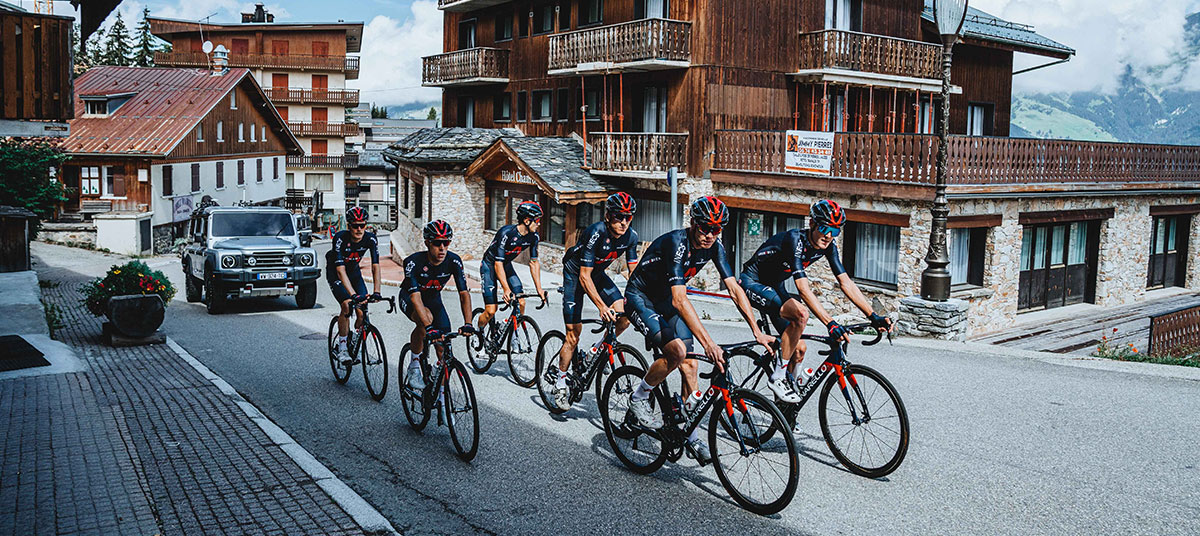 27 August 2020
INEOS GRENADIERS LAUNCH AT TOUR DE FRANCE 2020
Once known as Team INEOS, the well-respected cycling team was renamed to become the INEOS Grenadiers for the start of the Tour de France 2020, marking the beginning of an exciting new phase for one of the most successful teams in cycling.
From Spring Classics to Grand Tours, the distinctive red and blue livery of the INEOS Grenadiers is now a familiar sight at the world's greatest cycling events.
WHERE DID THE NEW NAME COME FROM?
In 2017, INEOS Chairman, Sir Jim Ratcliffe, a car enthusiast and experienced adventurer, identified a gap in the market for a highly capable, hard-working 4X4 vehicle, that was built on purpose.
The Grenadier's design was unveiled in July 2020 and will go into production in late 2021.
The INEOS Grenadiers team name aligns with the no-nonsense 4X4 vehicle designed and created by INEOS Automotive.
THE INEOS GRENADIERS BIG DEBUT
In August 2020, ahead of the INEOS Grenadiers' Tour De France campaign, the team's four Grand Tour winning champions, Chris Froome, Geraint Thomas, Egan Bernal and Richard Carapaz, unveiled the new team kit from Castelli and newly branded Pinarello DOGMA F12 at the Allianz Riviera, alongside two prototypes of the Grenadier vehicle which gives the team its new name. The Grenadier is the rugged 4x4 utility vehicle engineered and manufactured by INEOS Automotive, designed on purpose to be a highly capable, go-anywhere, hard-working vehicle.
The riders were introduced by Gabby Logan alongside other famous faces from the wider INEOS Sport family including Sir Ben Ainslie, Patrick Vieira, Valtteri Bottas and Eliud Kipchoge.
THE INEOS GRENADIERS IS A NEW NAME BUT ONE THAT SUMS UP WHO WE HAVE ALWAYS BEEN. IT IS A NEW PARTNERSHIP BUT ONE THAT EPITOMISES OUR EXISTING TEAM VALUES - AMBITION, GRIT, DETERMINATION, RESOURCEFULNESS, TENACITY AND PASSION.
INEOS GRENADIERS TEAM PRINCIPAL SIR DAVE BRAILSFORD
TESTING TAKEN SERIOUSLY
As part of the Grenadier's 'testing in plain sight' programme, the prototype was showcased at the Tour de France 2020 alongside the partnership launch with the INEOS Grenadiers. Our serious 4X4 vehicle prototypes then followed the team around the world as a support vehicle, using the world's toughest cycling races as a testing ground.
This was all part of the 1.8 million kilometres of rigorous on and off-road testing and development that INEOS Automotive put the Grenadier through to ensure our serious off-roader is the highly capable, go-anywhere, hard-working 4X4 vehicle it has to be.
WE'RE DELIGHTED TO ANNOUNCE THIS PARTNERSHIP, JUST LIKE THE GRENADIER, THE TEAM IS BUILT ON PURPOSE. THEY KNOW EXACTLY WHAT TO DO AND HAVE THE RIGHT TEAM TO GET THE JOB DONE. WE'RE VERY PROUD TO SEE EGAN, CHRIS, GERAINT, RICHARD AND ALL THE INEOS GRENADIERS IN THE COLOURS OF GRENADIER AND WISH THEM ALL THE BEST IN THE UPCOMING RACES.
MARK TENNANT, COMMERCIAL DIRECTOR OF INEOS AUTOMOTIVE