HANDS ON – INEOS HAND SANITISER HELPS THE WORLD IN THE FIGHT AGAINST CORONAVIRUS.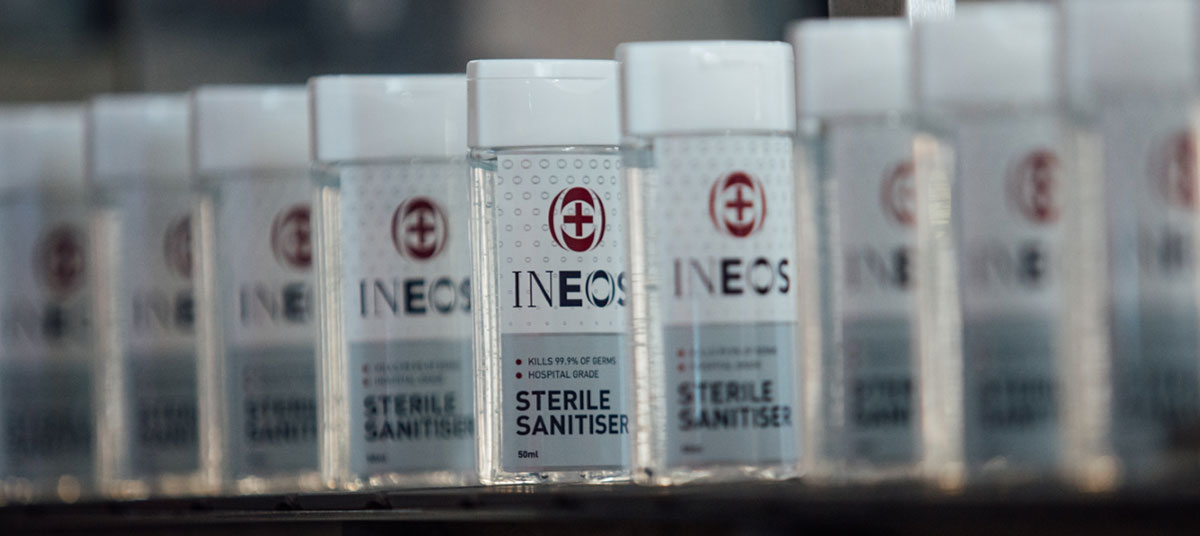 HELPING EVERYONE STAY SAFE, AT HOME AND IN THE WORKPLACE.
Sanitiser products that help us all carry on with confidence.
From the moment the coronavirus took hold, INEOS has been committed to stopping its spread. When supplies of hospital-grade hand sanitiser ran low at the start of the pandemic, INEOS Hygienics stepped up and built new manufacturing facilities. Within just 10 days, they had a new UK factory that could make a million bottles per month.
That was just the start. They built more factories just as fast, first in the UK, then in France, Germany and America. They gave millions of bottles to the world's hospitals for free, providing vital protection for front line staff.
Since then, the products have been made available more widely, offering that same level of protection to the general public. All INEOS sanitisers are based on the company's own high purity ethanol, manufactured under controlled conditions to meet the specialist requirements of pharmaceutical and medical applications. Every product is made with 75% alcohol, as advised by The World Health Organisation, health services in Europe and the US FDA. As a result, they are effective against 99.9% of viruses and bacteria.
A full range of INEOS sanitiser products can now be purchased online and in retailers, helping everyone combat viruses and germs at home, at work and beyond. They are even helping sports teams return to competition, including the Mercedes-AMG Petronas Formula One team, Giro d'Italia winners Team INEOS, the British challenger for the America's Cup, INEOS Team UK, and French Ligue 1 side OGC Nice.
Now everyone can get their hands on hospital-grade sanitisers and wipes to protect themselves from the virus.
I'M EXTREMELY PROUD OF THE INEOS TEAMS THAT BUILT THESE MAJOR PRODUCTION FACILITIES IN LITERALLY A FEW DAYS. THESE PRODUCTS PLAY A KEY ROLE IN THE FIGHT AGAINST THE CORONAVIRUS AND HELP PROTECT PEOPLE ACROSS THE WORLD.
Sir Jim Ratcliffe, founder and chairman of INEOS