INEOS GRENADIERS LAUNCH AHEAD OF TOUR DE FRANCE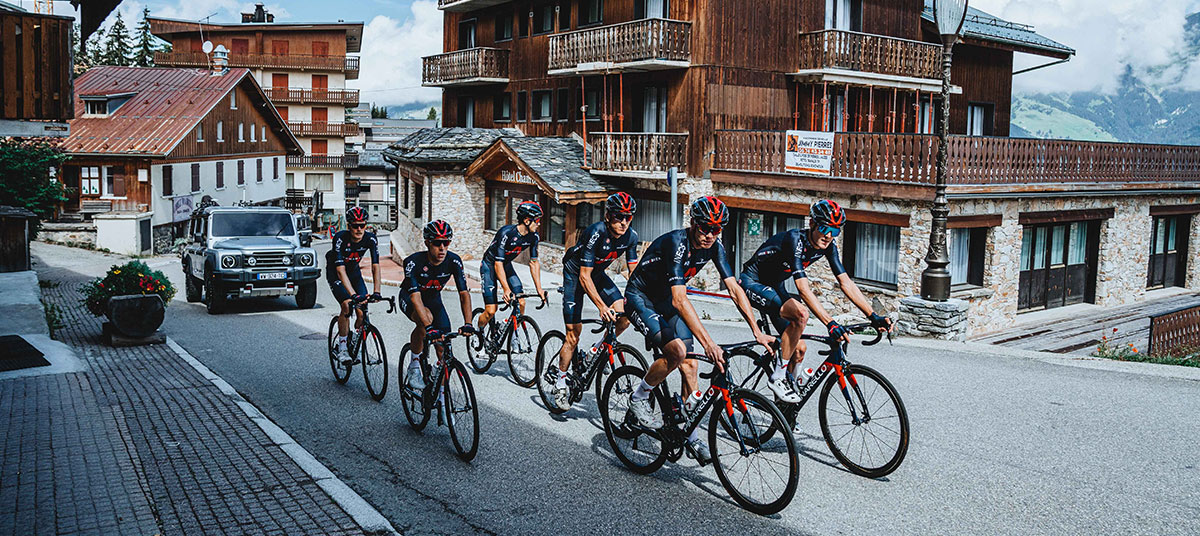 27 August 2020
Team INEOS has today officially switched to being the INEOS Grenadiers at a launch event in Nice, ahead of the start of the Tour de France this weekend.
The team's four Grand Tour winning champions, Chris Froome, Geraint Thomas, Egan Bernal and Richard Carapaz, unveiled the new team kit from Castelli and newly branded Pinarello DOGMA F12 at the Allianz Riviera, alongside two prototypes of the Grenadier vehicle which gives the team its new name. The Grenadier is the rugged 4x4 utility vehicle engineered and manufactured by INEOS Automotive, designed on purpose to be a highly capable, go-anywhere, hard-working vehicle.
The riders were introduced by Gabby Logan alongside other famous faces from the wider INEOS Sport family including Sir Ben Ainslie, Patrick Vieira, Valtteri Bottas and Eliud Kipchoge.
THE INEOS GRENADIERS IS A NEW NAME BUT ONE THAT SUMS UP WHO WE HAVE ALWAYS BEEN. IT IS A NEW PARTNERSHIP BUT ONE THAT EPITOMISES OUR EXISTING TEAM VALUES - AMBITION, GRIT, DETERMINATION, RESOURCEFULNESS, TENACITY AND PASSION.
INEOS GRENADIERS TEAM PRINCIPAL SIR DAVE BRAILSFORD
"This is a deepening of our relationship with INEOS and a brilliant example of how being a part of the INEOS group presents so many opportunities for us to be greater together."
As part of the Grenadier's 'testing in plain sight' program, the prototype has been brought to the Tour de France to launch the partnership with the INEOS Grenadiers and will now follow the team around the world as it completes the rigorous testing and development phase that needs to accumulate 1.8 million kilometres on and off-road over the coming year.
WE'RE DELIGHTED TO ANNOUNCE THIS PARTNERSHIP, JUST LIKE THE GRENADIER, THE TEAM IS BUILT ON PURPOSE. THEY KNOW EXACTLY WHAT TO DO AND HAVE THE RIGHT TEAM TO GET THE JOB DONE. WE'RE VERY PROUD TO SEE EGAN, CHRIS, GERAINT, RICHARD AND ALL THE INEOS GRENADIERS IN THE COLOURS OF GRENADIER AND WISH THEM ALL THE BEST IN THE UPCOMING RACES.
MARK TENNANT, COMMERCIAL DIRECTOR OF INEOS AUTOMOTIVE