Testing the Grenadier and Cycling team to the limit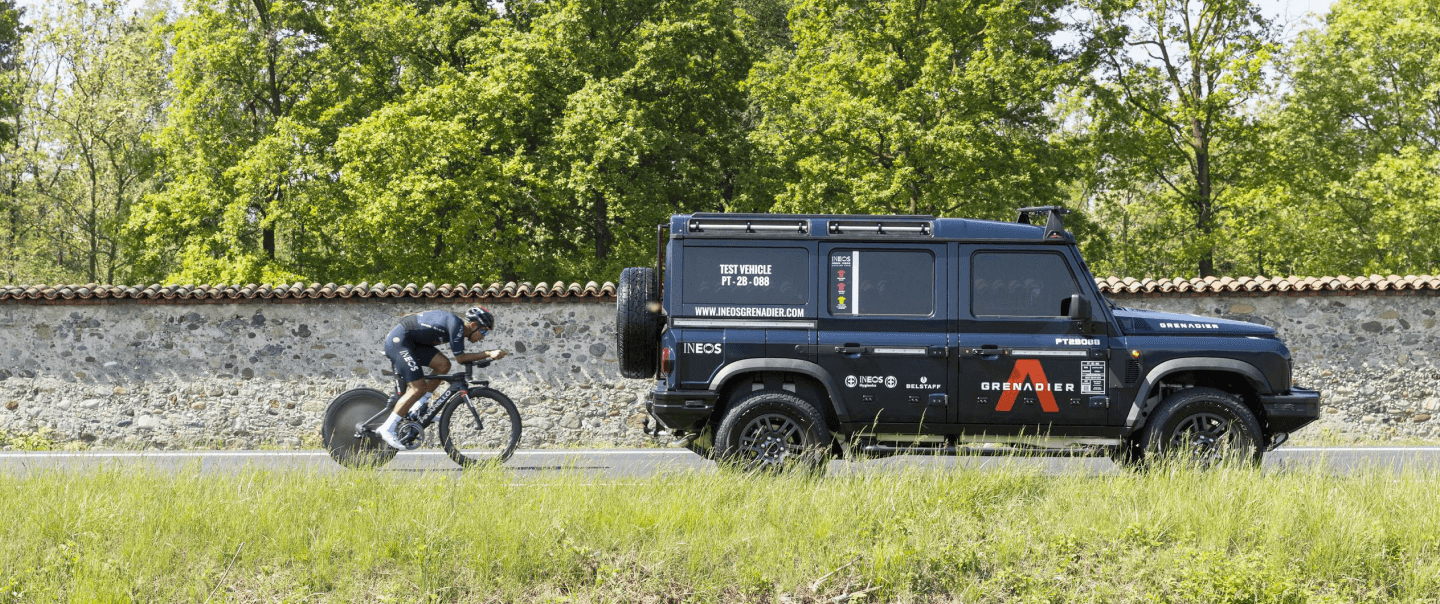 25 June 2021
Marginal gains in elite cycling is not a new concept. And to achieve marginal gains, extensive testing is required.
All elite teams must rigorously test both rider and bike to tackle the gruelling demands of the Grand Tour. This means testing altitude, aerodynamics, endurance, terrain, power, climbing, threshold, and climate – to name a few. 
Analysing and understanding performance is at the centre of both the INEOS Grenadiers on the road and our uncompromising off-road vehicle, the INEOS Grenadier.
A purpose-built testing programme
Creating a purpose-built 4X4 that works for the world requires a purpose-built testing programme.  Whether it's climate and terrain testing in the icy outpost of Arjeplog in Sweden or understanding how the Grenadier handles at altitude in the Austrian Alpsour. Engineers are subjecting every component to meticulous testing over the course of 1.8 million unrelenting kilometres in 15 countries.   
The ultimate competition; human endeavour vs engineering understanding
The INEOS Grenadiers climbed higher than 2,200 metres on the Cima Copa, on stage 16 of the Giro d'Italia.  To put that into perspective, the 2026 Winter Olympics will be hosted at a lower altitude than this.  Only days previously, riders tackled the dirt tracks and gravel roads of stage 11. Navigating such varied terrain and high altitudes requires the riders to undergo considerable testing, training, and preparation.
Embodying this spirit, the Grenadier has completed its first phase of testing in the Austrian Alps, at 1,445 metres with steep gradients of up to 60 percent. The elevated, unforgiving, and relentless hard rock terrain put the Grenadier's off-road capabilities through its paces, ensuring that it delivers on its promise as an uncompromising 4X4.
Getting the inside track with INEOS Grenadiers' Director of racing
We spoke to Rod Ellingworth, Director of Racing of the INEOS Grenadiers, who reiterated the importance of testing in elite cycling.
How and why is testing so important in cycling?    
As a team, we have to continually improve every aspect of our operations and performance. Testing and data are absolutely critical to that. In the highly competitive world of elite sport, if you stop moving forwards, you risk finding yourself on the back foot. 
What tests do the riders have to undergo to prepare them for the Grand Tour?   
Riders train and push themselves year round to prepare for a Grand Tour. The team uses a range of fitness and medical tests and training methods to ensure we always have a comprehensive understanding of where the riders are at, and where they need to be. We constantly look at their fitness, health, nutrition, speed and power outputs through our data capture at training camps and preparation races. 
The races leading into a Grand Tour are very important, both for looking at riders' physical condition and the data we get from the power and other monitoring tools we use, but also to check in on their commitment to the teams' objective.  
What are the most important tests the INEOS Grenadiers must do?  
For the Tour de France, the majority of our squad travels to Tenerife for an altitude training camp in May. These will be some of the hardest training blocks that the riders will undergo all year. It enables them to train to their limits at altitude and to target their ideal power to weight ratio, which is critical for a three-week endurance race like the Tour de France.
What tests do you do on the bikes to ensure that they are ready for racing?   
Our kit and equipment are constantly evolving and are driven by data and the changing demands of different race and training environments. We work with a range of different partners across every area from nutrition to wearable technology.
For our bikes, we have been working with Pinarello for over a decade. It is a partnership based in a shared dedication to innovation and remaining at the forefront of engineering. We have raced 17 different models of Pinarello in the world's biggest events and we are always working together on improving the design, set-up and weight. 
When we are at races, our team of performance scientists and mechanics are constantly working on the bikes. All bikes are ridden in races before the Grand Tour itself so they are trailed and tested - we have a protocol that riders cannot ride any new bike set up for the first time at a Grand Tour. 
On each Grand Tour, we will have four mechanics on the road who are responsible for looking after the whole fleet of bikes. Each rider will have three roads bikes at the race, as well as two time trial bikes, and all have to be at peak condition and ready to be used at any time. 
Do different stages of a race require different tests?  E.g., testing for racing at altitude vs testing for different terrains vs testing for wet weather or heat.    
It depends on the course of the race but Grand Tours are generally decided in the high mountains and so the riders always need to be prepared for full-gas racing both at altitude and in the heat. These are the most difficult days our riders will face, with some climbs at the Tour de France and Giro d'Italia nearing 3,000m of altitude. We train for this by spending many weeks a year riding at altitude, and by monitoring exposure to heat.