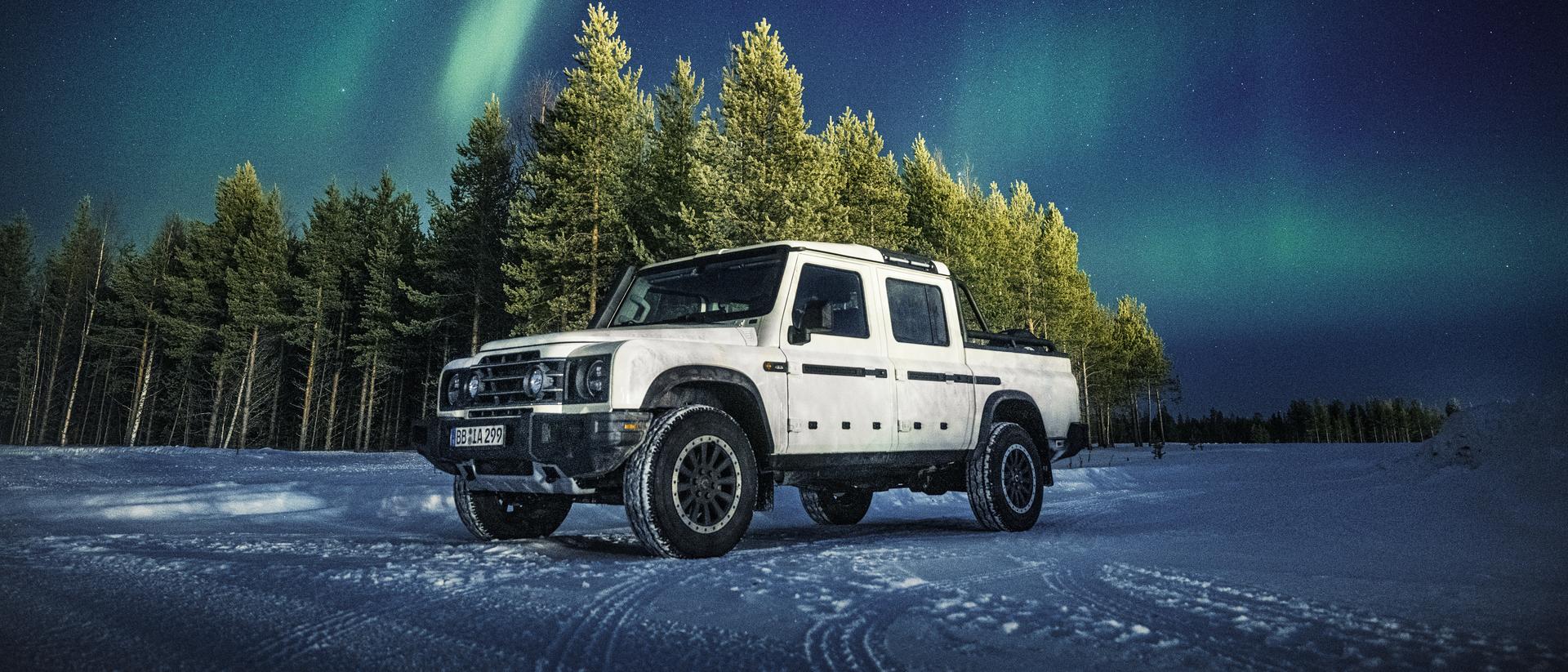 Quartermaster VS The Ice
Ivalo, Finland
Test bed
Lapland. Known for the Northern Lights, for reindeer, and for endless pine forests. Icy, snowy terrain. Sub-zero temperatures. Perfect for putting our new Quartermaster double-cab pick-up through its paces. How would its extended wheelbase, longer chassis and different cabin cope with the extreme conditions? Our team of engineers spent 14 days finding out during full vehicle testing.
ON-ROAD ON TEST
First, we had to reach this proving ground. All the way from Graz, in Austria to Ivalo, Finland. The perfect opportunity to assess how our off-road-focussed pick-up performed on-road. Passenger comfort. Steering. Road noise. Tested, evaluated and optimised.
COLD START
Snowfall. Low temperatures. Strong winds. As if these weren't extreme enough, we subjected the Quartermaster to -35 degrees Celsius temperatures using over-night climate chambers. Come morning. Started up, no problems. Everything checked. Every moving part, still moving. Every function, still working. And a great test of the cabin's heating and climate control.
DRIFT ICE
How would the Quartermaster handle, compared to the Station Wagon? We tested tweaks to the electronic stability control system. Scrutinised how the longer wheelbase affected handling in the toughest conditions. The Quartermaster passed with flying colours. Delivering grip, traction and control. Even letting us have some drifting fun, despite its size.
FROM SNOW TO GRAZ
Three prototypes – two petrol, one diesel. Each driven hard for 1,000km across the snow and ice. High expectations met. Room for improvements noted. To inform final adjustments made back in Austria. Readying the Quartermaster for customers around the world.
The verdict: passed with flying colours. Watch the film to see the action.
120 - 600m
Altitude
4,500 km
Per vehicle
14
Days of Testing
-35°C
Sub-zero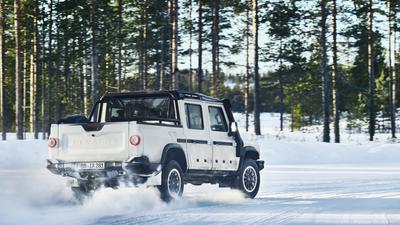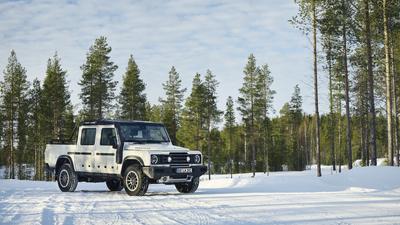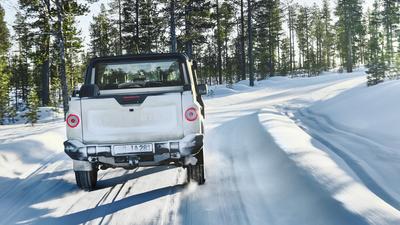 Quartermaster VS The Ice
TEST FOCUS
Customer Functions Tests
Acoustic evaluation
Thermal Comfort Measuring
Build your Grenadier
When you need the Grenadier to work, it works. That's because we test it beyond industry standards and everyday demands.
Starting in February 2021, our testing and development programme for the Grenadier prototype took us to 15 countries around the world on the toughest terrains and in the worst of weathers. With our team of engineers analysing and recalibrating every part and function of the vehicle.
Here we take you inside our programme with insights from the engineers as they put 130 vehicles through 1.8 million km of testing and development. This programme took place in five distinct locations and environments: Sweden, Austria, Granada, Kosovo and Morocco.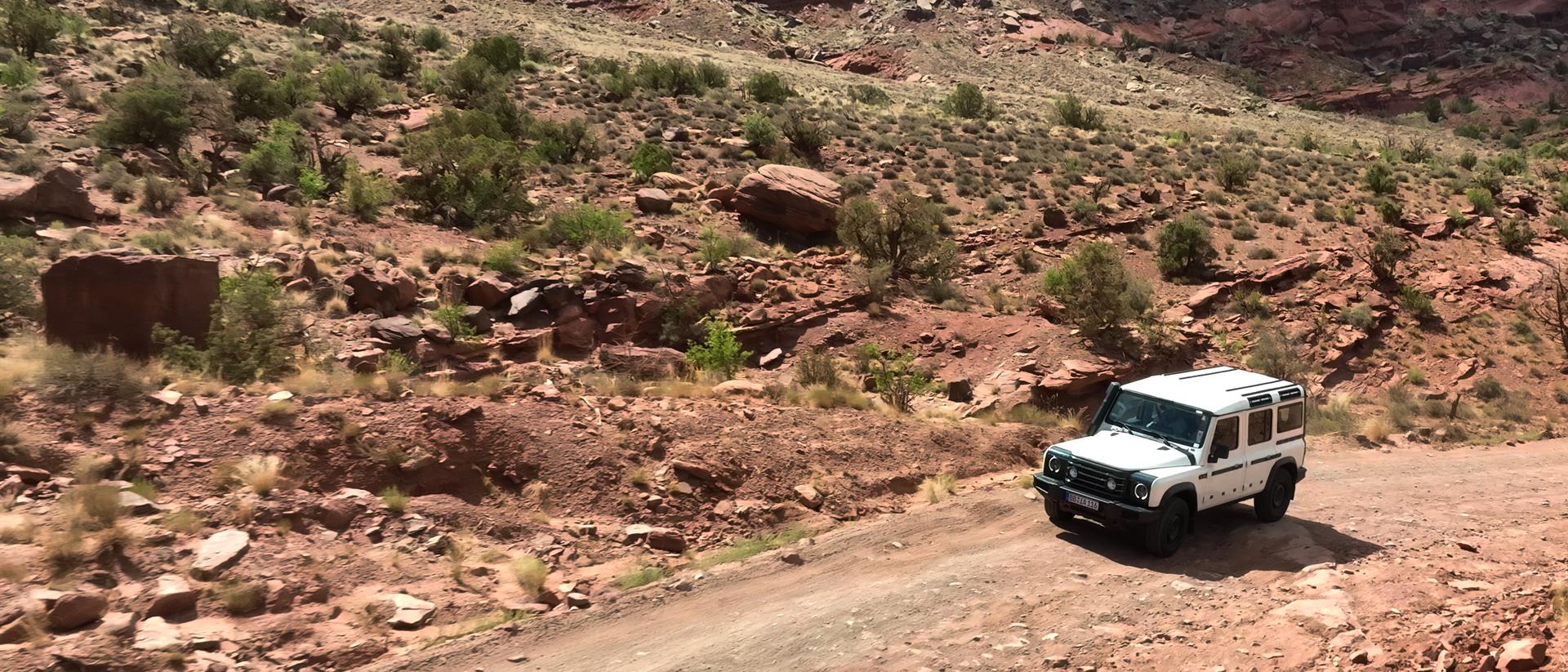 Grenadier VS The Rockies To The Pacific
USA
Touchdown
Europe. Australia. South Africa. Our 2B prototypes certainly racked up the miles. And our Versus series also followed them through Sweden, Austria, Morocco, Spain, and Kosovo. Now we're adding to the series with 4,000 miles of testing in the epic landscapes of North America. And with good reason. We know the demands facing an off-roader in the US. So we put our efforts into specific testing to make sure the Grenadier can tackle every one of them head on.
New Kid On The Block
Early prototypes were stripped back, raw, functional. They proved our choice of full box-sectioned ladder frame and beam axles. Helped fine tune the performance of the engines and permanent four-wheel drive system. And explored how all these components work together.
With orders opening in North America soon, we're doing final proving of the latest phase of our prototypes, called Production Try Outs (PTO). A new generation of Grenadiers that showcases what we've learnt and implemented over the last five years. As we ramp up to building customer vehicles, the vast, unforgiving terrain of the Rockies is where we applied these finishing touches.
Ain't No Mountain High Enough
Our early prototypes tested the powertrain's capability in the high altitude of the Sierra Nevada, in Spain. These new PTOs tackled extensive runs in climate chambers. But no simulation can beat real world trials. So we hit Colorado roads at serious altitude. Dusty, shale trails. Long, winding climbs. Extended plateaus and prolonged descents. Plus fast-changing weather. The sudden downpours on Mount Evans worked demisters and heaters hard. They kept occupants warm and windows mist-free for a clear view ahead. 

In the snow, at heights above 14,000 feet, the thin air left the crew breathless. But the Grenadier sailed on regardless, with air intake capabilities and engine performance remaining reliably consistent. So, the vehicle did too. 

See for yourself.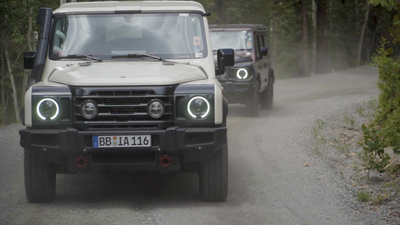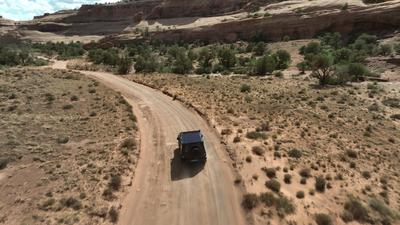 Build your Grenadier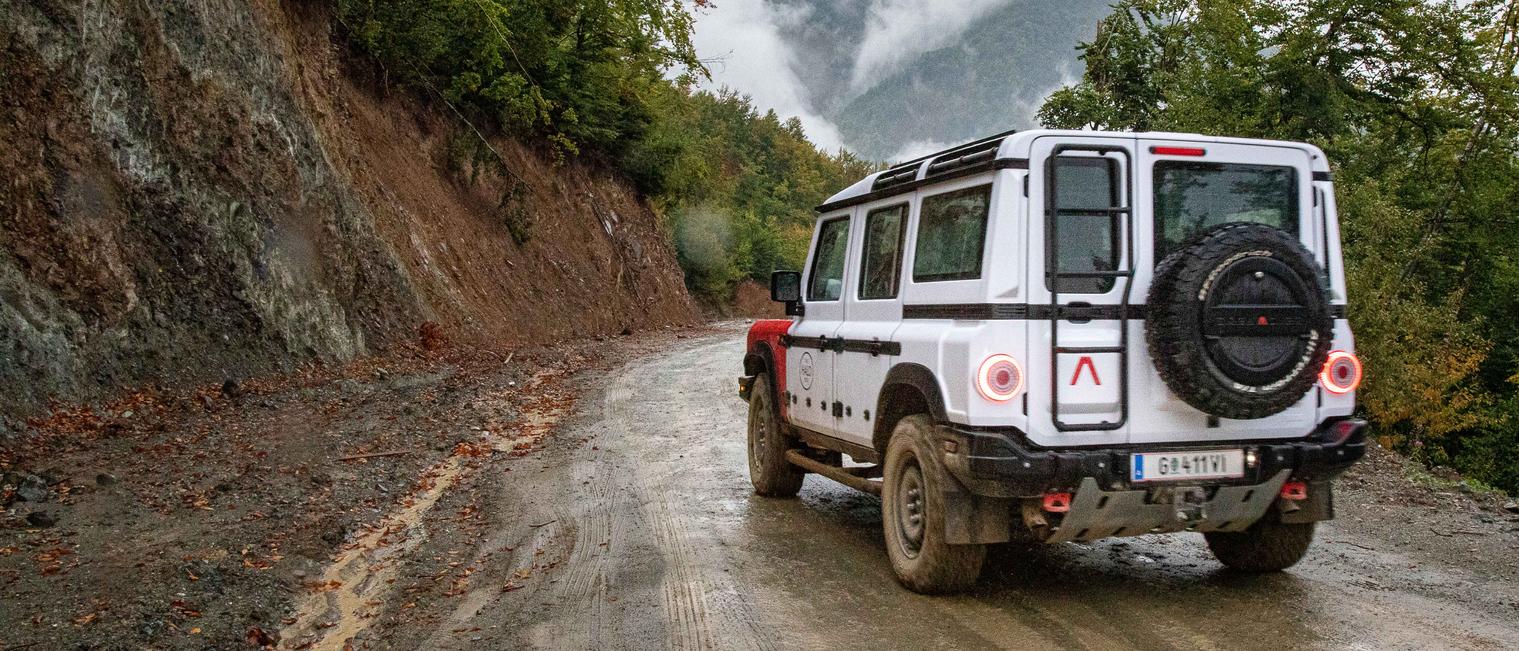 Grenadier VS The Task Ahead
Kosovo
TACKLING HUMANITARIAN TASKS.
The minefields of Kosovo. Tough terrain where our official development partners, The HALO Trust, do a difficult and dangerous job. Their mission is clearing the landmines and other unexploded ordnance left behind by conflict and war. We couldn't pass up the chance to join them. So that's where we headed for Episode 5 in our 'Versus' series. Taking along a Grenadier prototype to discover exactly what HALO demands from its fleet. And if there were any tweaks we could feedback to our engineering team to benefit both HALO, and future drivers like you.
FROM WAR TO HOPE
At the end of the conflict in Kosovo in 1999, huge numbers of unexploded landmines and cluster bombs were left across wide-ranging terrain, including in many remote, inaccessible places. Places HALO continue to clear. HALO started working in Kosovo immediately after the fighting stopped, clearing over 10km2 of minefields so far. It was great to get a Grenadier prototype involved.
Another 4,500 miles of rocky, muddy and loose limestone ascents under the belt.
GETTING TO WORK
On joining their programme, our Grenadier prototype spent three days ferrying crew and equipment over 200km in the mountainous border country between Albania and Kosovo. A great test of our rugged 4X4's capability in all weathers. And over everything from rocks and dry, loose shale tracks to wet, muddy, rutted off-road terrain. Demining this vast area requires lots of gear and vehicles with a large cargo capacity. The 1.25 metre-wide 30/70 rear doors helped speed up loading and unloading equipment. While the practicality of over 1,000 litres of stowage space behind the second row of seats more than proved its worth.
ESSENTIAL IN EMERGENCIES
For The HALO Trust fleet, durability, capability and reliability can mean the difference between life and death. When called upon, HALO's vehicles need to double as ambulances. That's where the Grenadier's smooth, coil-sprung ride, low-range box, and power and torque could help. Getting casualties to the medical care they need as comfortably, quickly and safely as possible. Our prototype proved its ability to make the transition from rutted rural tracks to road-cruising effortlessly.
MINIMAL MAINTENANCE
HALO has projects all over the world. This can mean limited access to servicing and maintenance. So, their vehicles need to be not only tough but also simple to work on. Feedback from Kosovo backed up our decision for minimal ECUs and using mechanical, analogue design wherever possible. This ensures both rugged reliability but also familiarity for technicians servicing the vehicle in the workshop. With our comprehensive, step-by-step Workshop Manual and easily accessible components, HALO can depend on local mechanics, with no prior Grenadier knowledge or experience, to maintain their fleet for optimal operational efficiency.
It's straightforward. Minimising downtime keeps the Grenadier moving and working.
A GOOD FIT
Taking full advantage of our trip to Kosovo, this final test of our 2B vehicle reinforced our understanding of the needs of a true humanitarian organisation. The HALO Trust demands safe, reliable, capable vehicles and can only exist with the support of purposeful 4X4s. Exactly what the Grenadier is engineered to be. Day in, day out.
Initial vehicle testing complete. Now onto the next phase of Prototype development.
Field Trials: Testing the Grenadier's capabilities on an active HALO programme

Terrain: Rock, rutted mud & loose shale 200km off-road

Altitude: Up to 1,400m Climb total 4,500m

Weather: All seasons in one day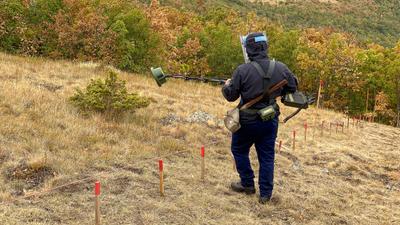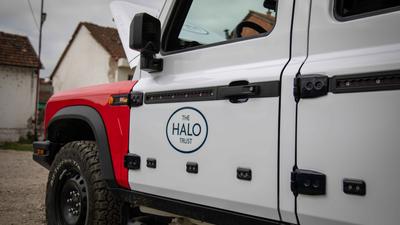 Build your Grenadier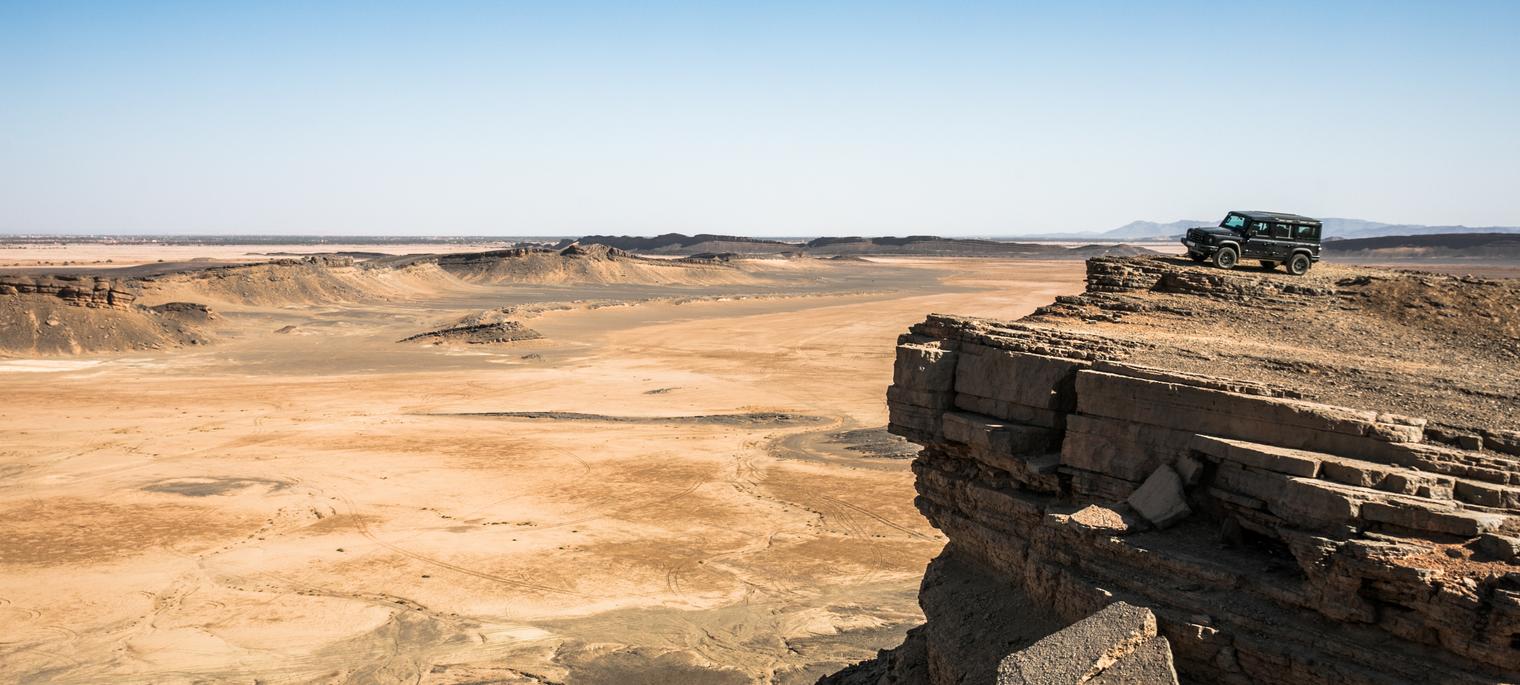 Grenadier VS The Desert
Sahara Desert, Morocco
TAKING ON THE SAHARA.
The Sahara Desert in Morocco. Location of Episode 4 in our 'Versus' series. With scorching heat, rock, dust, and deep sand, it felt like the perfect place to continue testing our rugged 4X4. This time, focusing on how the Grenadier's powertrain and suspension set-up perform in this extreme environment.
TRACTION
Electronic Traction Control (ETC) monitors wheel slip. And selectively applies brakes to regain traction. But traditionally, ETC doesn't cope well on sand. Overcompensating and cutting power to wheels it thinks are slipping. So we did as we always do in every testing location: drive, calibrate, repeat. Until the Grenadier's ETC learned the constantly shifting characteristic of dunes – diff-locks engaged or not. Allowing sufficient wheel slip to maintain momentum keeping the Grenadier on top of the sand.
GRIP
We tested two tyres. Our standard Bridgestone All-Terrain. And the more aggressive BFGoodrich All-Terrain T/A KO2. Testing both gave us more insight into all powertrain systems and how different tread patterns dealt with dune driving. The BFGoodrich All-Terrain T/A KO2 proved its off-road prowess. And the bespoke Bridgestone was equally impressive in varied conditions.
TOUGH TERRAIN
Tackling both soft, rolling sand dunes and hard, rocky ground put both ends of the suspension spectrum to the test. The vehicle proved it can adjust effortlessly. Supple on rocky terrain then progressively firmer on deepening sand to reduce body roll and weight transfer. The result? A comfortable ride with less digging into the dunes. And a much safer handling experience.
GOING UP
Climbing dunes takes commitment, speed, and a square on approach. No room for hesitancy. As the vehicle hits the incline, the front suspension compresses. That's where the Grenadier's 35.5° approach angle and tuned springs came into their own. Proving time and again that drivers can take on the toughest dunes with confidence. Grenadier design and engineering working in harmony.
COMING DOWN
With Downhill Assist engaged the Grenadier does the work. Automatically applying the brakes to maintain the drivers selected speed. Combined with the correct gear it keeps the driver off the brake pedal, in control and focused on the ground ahead.
Sand, sand
and more sand
800m
altitude
2700 km
off-road
9
days tested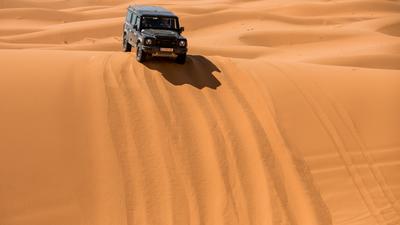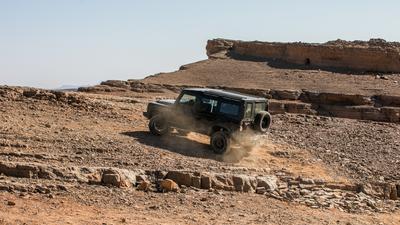 Grenadier VS The Desert
Test Focus
Powertrain and suspension set-up
Build your Grenadier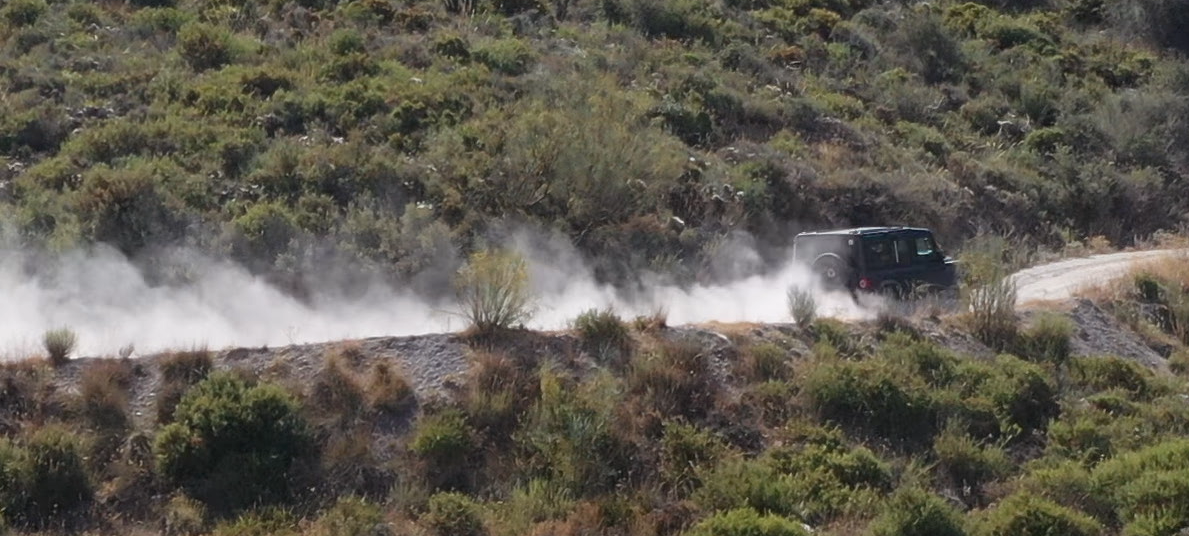 Grenadier VS The Heat
Granada, Spain | July 19, 2021
NOT YOUR AVERAGE ROAD TRIP.
Three weeks in the heat, dust and high-altitude of the Sierra Nevada mountains. Three test vehicles clocking up a total of 11,300km on and off-road. Temperatures up to 41°C and heights of 2,500m above sea level. They're the latest tough testing challenges our Grenadier prototypes faced as we continued putting them through their paces.
VS ALTITUDE
Lack of oxygen causes naturally aspirated engines to typically lose 1% power per 100m of elevation. To prove our BMW engines' ability to maintain power, we tackled the thin air found at 2,500m. The turbochargers help reduce power loss by supplying compressed air to the combustion chamber. And we constantly monitored the air-fuel ratio to ensure a stable output. Also, at these heights, engines tend to rev higher to maintain power. This can make the transmission shift up gears quicker. Not always welcome in the mountains! We calibrated the powertrain through iterative testing to ensure the 8-speed automatic transmission, from industry leaders ZF, always selects the correct gear. Enabling the engine to sit in the ideal rev range to deliver the right torque and power at the right time, no matter what.
VS HEAT
Temperatures up to 41°C allowed us to assess the complete powertrain, from fuel system to transmission durability, at high heat. This combination of heat and low air pressure can make petrol turn into vapour, which interrupts the fuel supply. Our testing showed the Grenadiers suffered no fuel pressure issues and never stalled. We also closely monitored transmission temperature and shifting quality with the team further validating the cooling systems. Thanks to installing extra thermal protection the Grenadier's performance remained unaffected, even in these extremes.
VS DUST
Dust can cause major performance issues when it gets into air intakes or clogs filters. The Grenadier's air intake is positioned to combat this. Reducing the dust sucked into the filter, maintaining airflow and with it, power. No one wants dust in the cabin either. Preserving positive interior pressure helps keep it to a minimum, but full-width doors or tailgates are often a weak link. The design of the Grenadier's 30/70 split rear doors proved to cut down excess lateral movement. The result? A serious sealing surface and minimal dust ingress.
VS DISCOMFORT
These conditions can be gruelling for passengers too. During this testing our Recaro seats proved their worth, providing excellent support and comfort while the simple, minimal central control system and overhead control panel helps our light and spacious cabin stay a pleasant place to be.
41℃
11,000+ KM
2,500 m
altitude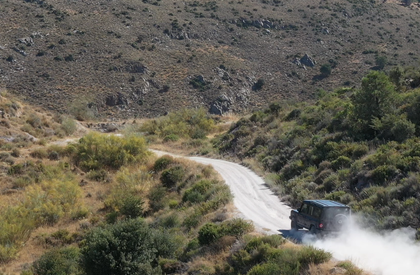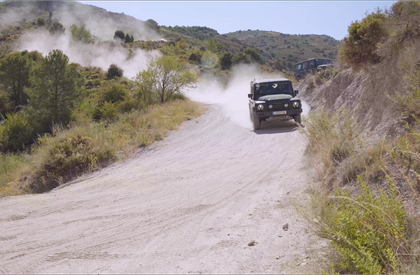 Grenadier VS The Heat
Test Focus
Overall engineering and performance
Powertrain Calibration
Build your Grenadier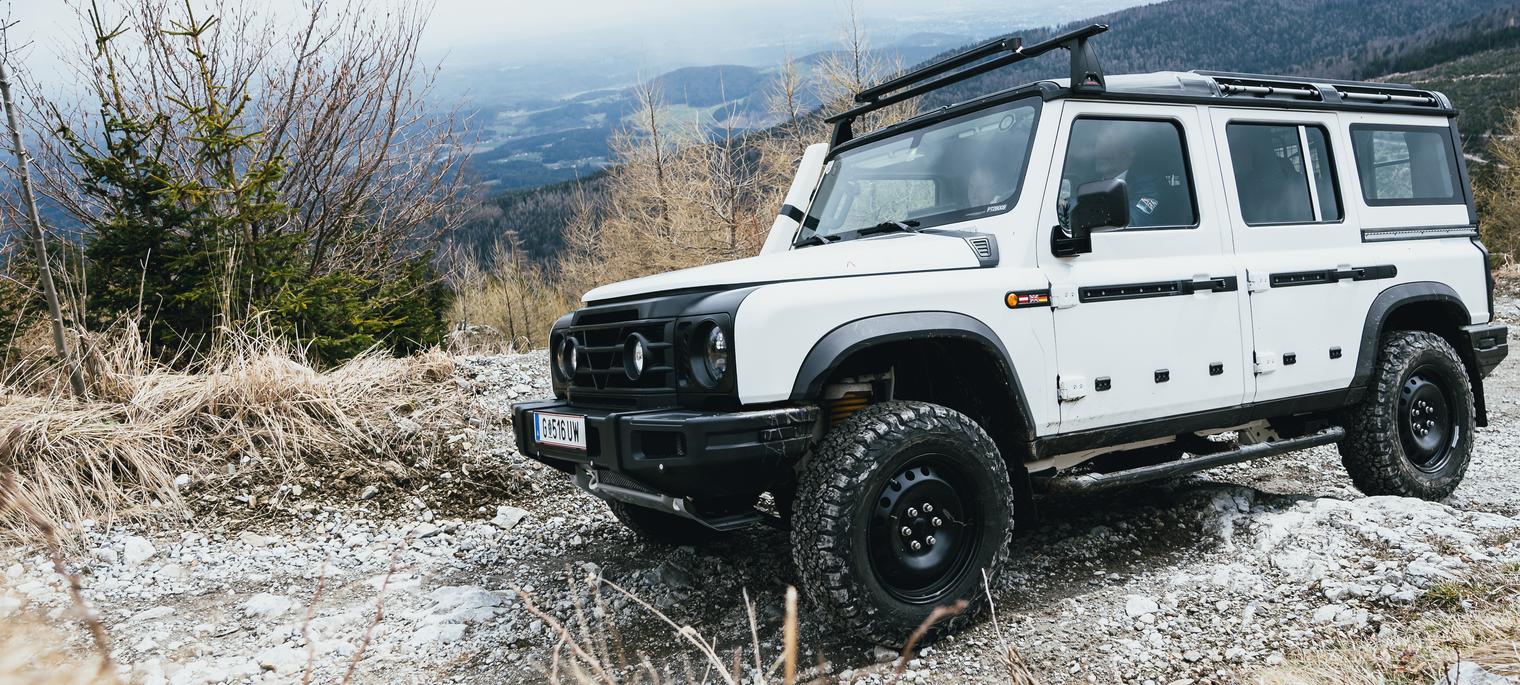 Grenadier VS The Mountains
Schöckl, Austria | April 06, 2021
The steeper the better.
Austria's Schöckl Mountain is one of the world's toughest 4X4 proving grounds, its rocky terrain a rigorous test of a vehicle's robustness. The perfect place then to continue the testing of the Grenadier's body, frame and overall durability.
CHASSIS & BODY CONSTRUCTION
As part of our durability testing, we drove the Grenadier up and down the mountain as fast as the trails would allow over varied conditions for nearly 10,000 kms. The chassis and frame – the main focus of the test – remained at 100%. That's because the Grenadier's chassis is a ladder frame design. More rigid and robust than semi box-section chassis that can bend or deform, it can tolerate much higher levels of stress. KTL dipped and powder-coated, the chassis is also protected from stone chips and corrosion. While the galvanised steel body offers structural integrity.
AXLES & SUSPENSION
The solid beam axles, developed in partnership with Carraro – with their 50 years' experience of making heavy duty axles for the likes of John Deere and Claas – are a crucial part of what makes the Grenadier so capable. Strong, robust and straightforward, when one side of the axle goes up in the air, the opposite side pushes down into the ground for better grip. The axles and suspension were put through thousands of kilometres over uneven rock at the Schöckl, proving their solid build, ability to withstand constantly varying forces, and successfully supporting a fully laden 3.5 tonne Grenadier.
CAPABILITY
Alongside durability we also tested the vehicle's off-road capability. Engine, transmission, permanent four-wheel drive and ground clearance all worked together to get us up and down the tough mountain trails. The Grenadier's 35.5° approach angle and 264 mm ground clearance proved effective when climbing gradients of up to 31°. While the 3.0L BMW diesel and petrol engines, producing 245 and 281 horsepower and 550 and 450 Nm of torque respectively, were essential to firing us up the mountain. The 8-speed automatic ZF transmission (with manual override) meant we could focus on driving and steering the vehicle along the tricky trails, and let the vehicle focus on the shifting.
31°
Max Gradient
1445 m
altitude
2000 km
Endurance per vehicle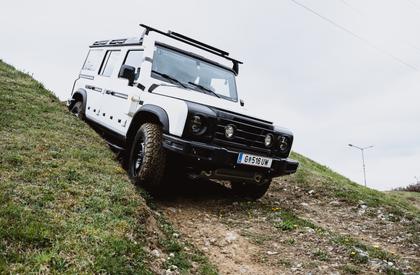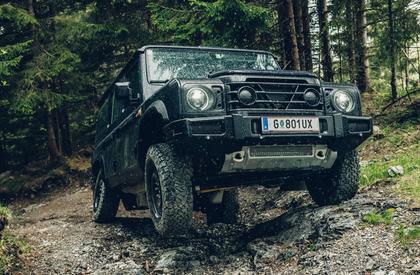 Grenadier VS The Mountains
Test Focus
Body & frame structure
Overall engineering and performance
Reserve your Grenadier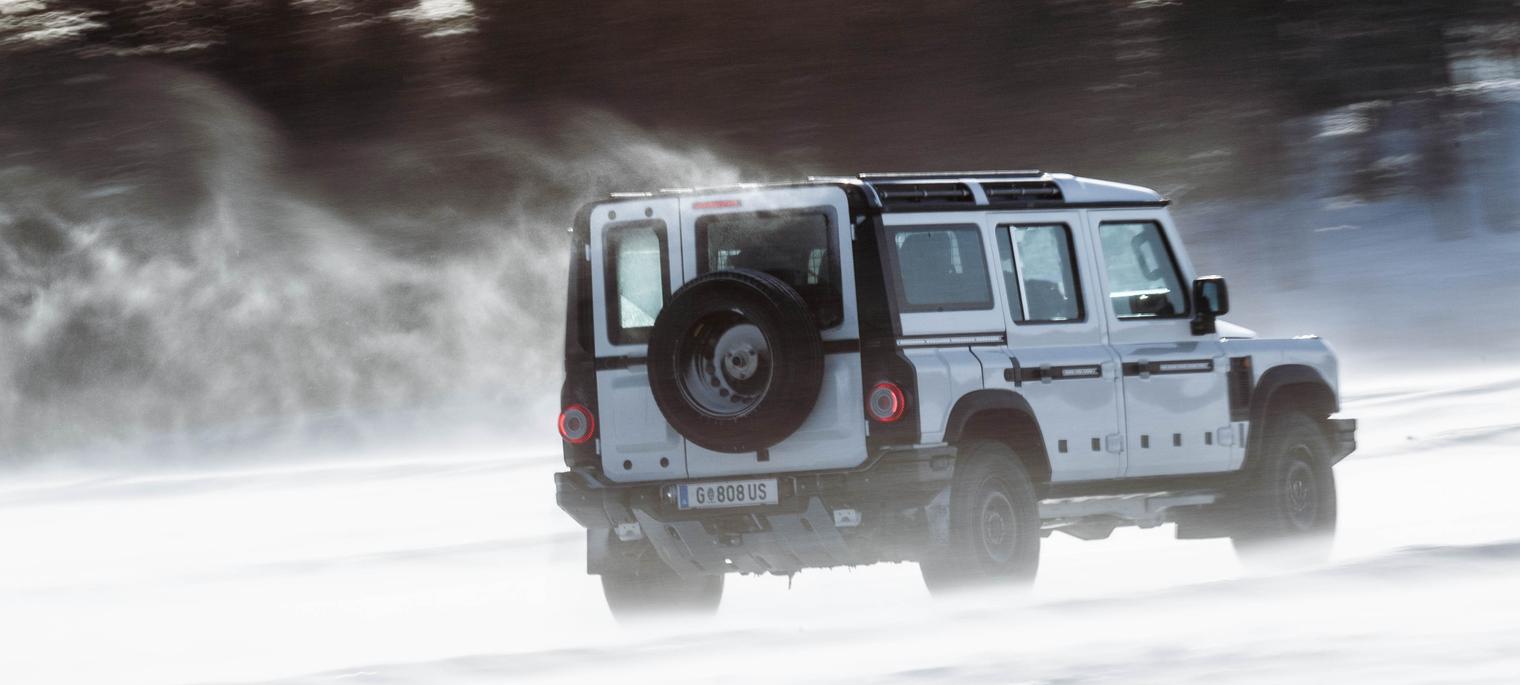 Grenadier VS The Arctic
Arjeplog, Sweden | February 22, 2021
Going arctic.
Located in the northernmost province of Sweden, Arjeplog is known for its subarctic climate, with record lows of -44℃. A tiny, remote place that boasts more lakes and reindeer than people, it's a well-known proving ground to test winter off-road capabilities. Our engineers spent three weeks here testing and fine tuning the powertrain, transmission and Electronic Stability Control (ESC). As well as the day-to-day functions of the vehicle.
COLD WEATHER
With temperatures dipping down to -22℃, we had to calibrate and fine-tune the powertrain of the Grenadier to start with cold fuel and oil, and to run exactly as designed despite the conditions. Electronics of the vehicle were also tested — such as the digital screens, power windows, wipers, and defrosters. Not to mention the doors and rubber seals, which in an arctic climate tend to freeze shut. Overall, the Grenadier performed as designed, straight from a freezing cold start.
STABILITY CONTROL
We tested the Grenadier on all possible winter terrain, and calibrated the ESC accordingly, allowing it to detect a loss of traction and react immediately, preventing the tyres from slipping. In winter conditions, a smart, fine-tuned ESC can be the difference between taking a corner, or ending up in a snowbank.
TYRES & TRACTION
In the winter, you're going to need traction more than in any other season. So we developed, tested and refined the Bridgestone All-Terrain Tyres made bespoke for the Grenadier. The tyre's Three-Peak Mountain Snowflake certification meant they proved capable under the demanding winter conditions.
UPHILL & DOWNHILL
Getting up and down hills in snowy conditions can be a challenge. We tested and fine-tuned the uphill and downhill assistance systems to be that extra helping hand. Snow, sleet or slush, these systems provide the driver with confidence and control.
-22℃
4000 KM
Completed
20
days tested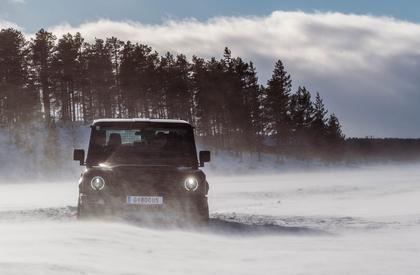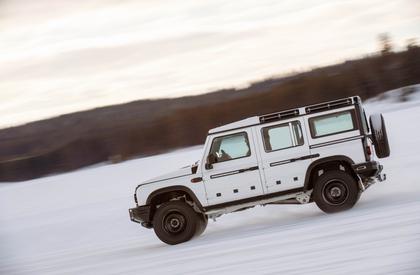 Grenadier VS The Arctic
Test Focus
Powertrain Calibration
Engine & Transmission
Cold weather starts
Reserve your Grenadier
Future Testing
Coming soon
FOLLOW THE GRENADIER
Keep up-to-speed. Sign up to get all the latest news – as it happens.