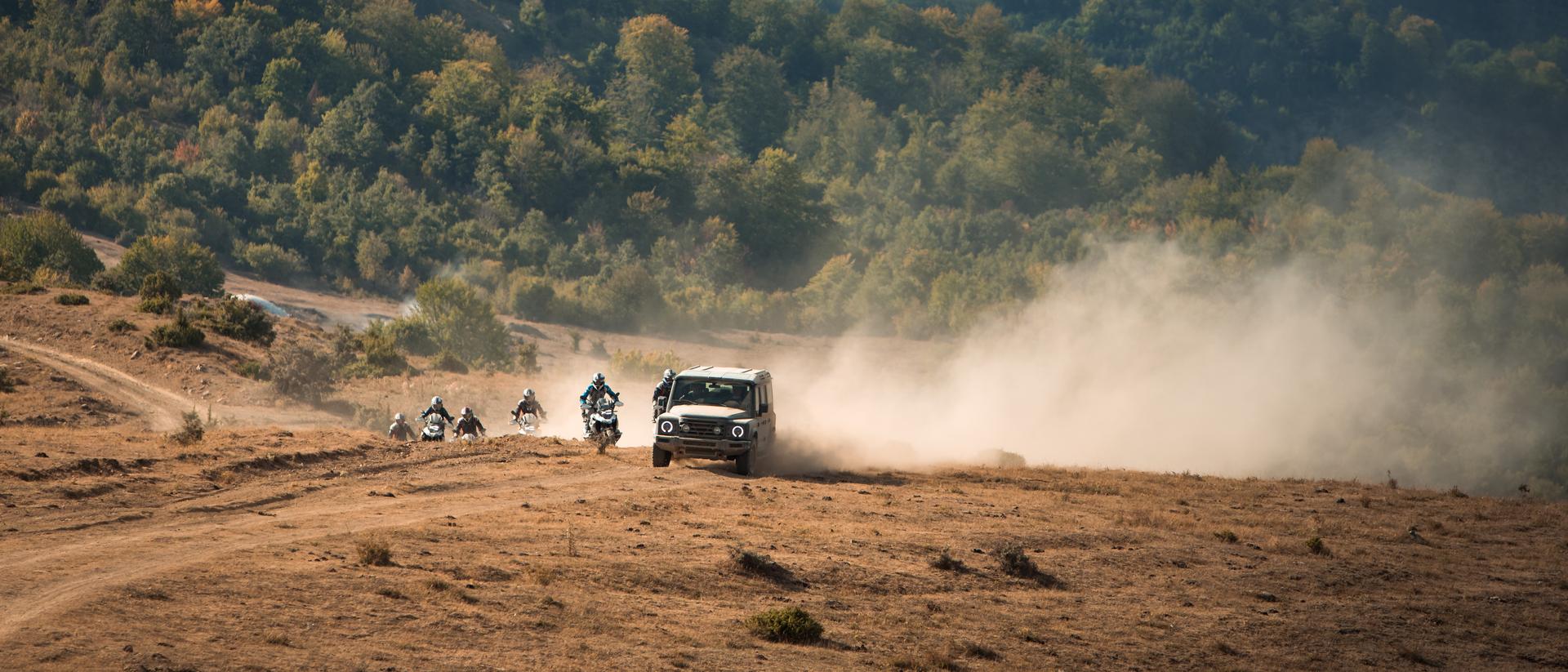 The International GS Trophy 2022
The Albanian job
Every two years, our drivetrain partner, BMW, celebrates its iconic R1250 GS motorbike with an equally iconic event – the BMW Motorrad International GS Trophy. And, in 2022, it's coming to Europe for the first time. Albania will provide the backdrop as riders from 15 countries tackle a demanding 1,300km route. With an emphasis on skill, adventure, and teamwork, it's the perfect match for the INEOS Grenadier.
16 grenadiers
57 riders
seven days
Even before the event kicks off on 4th September, Grenadiers have already been helping. Scouting Albania for the most demanding tracks and trails. As off-road vehicle partner, we'll be providing 16 Grenadiers. Vital support vehicles for the event itself.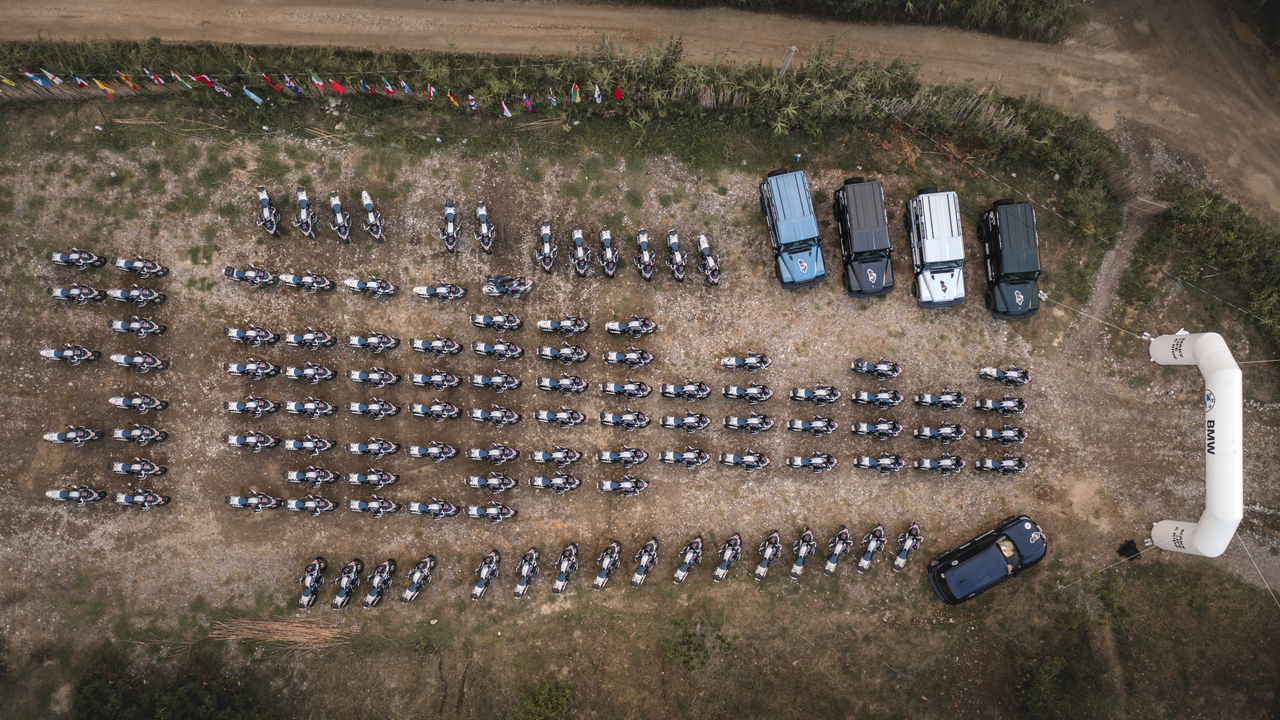 ineos automotive and the grenadier
off-Road vehicle partner
FULLY LADEN. FULLY COMMITTED.
As off-road vehicle partner, INEOS Automotive will provide 16 Grenadiers, along with drivers and mechanics. They'll play a vital role. Supporting riders over the entire seven-day event. Going everywhere they go. Navigating the rugged terrain with payloads of provisions, equipment and spares. Not to mention mechanics and support staff.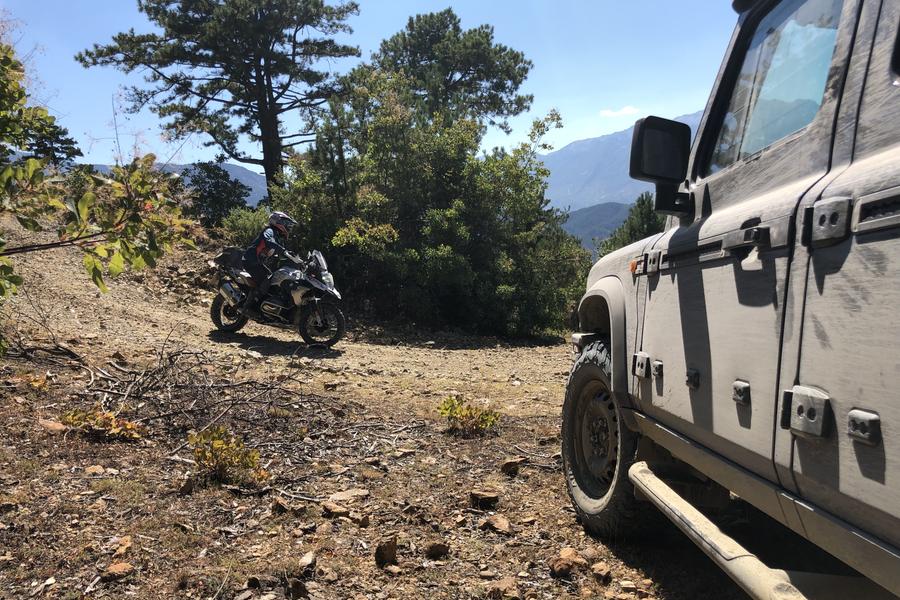 16 workhorses. seven jobs
Our 16 Grenadiers will play seven roles. Each performing a different duty, or carrying different teams and/or kit. First responder - Medical personnel and equipment. Technical services - Tools and spares for maintenance. SoMe (social media) - photographers and their gear. Helicopter pick up - Ferrying patients in the event of emergency. Film crew - Camera people and equipment. BMW Orga 2 - BMW Motorrad staff. AK/MRP - For media and VIPs.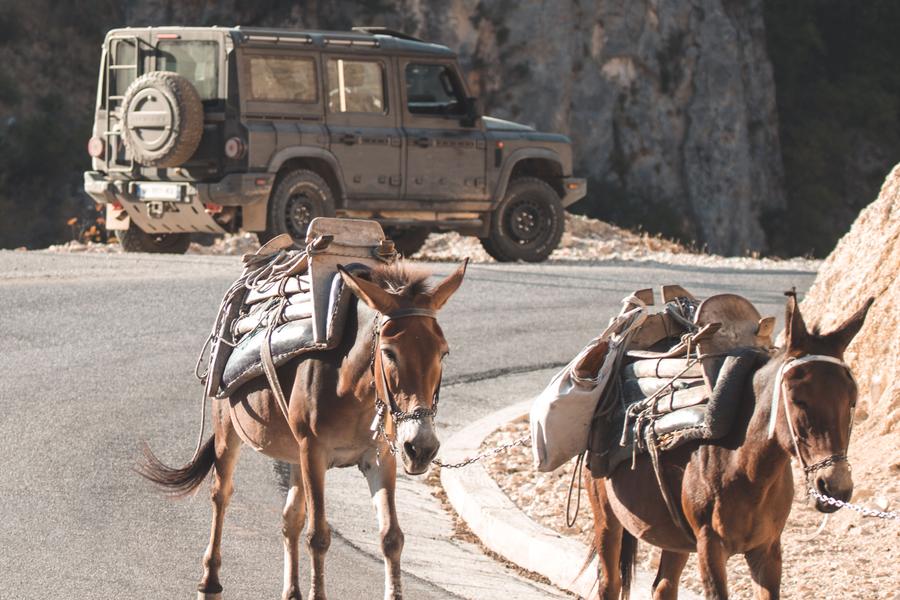 meet the vehicle
THE BELSTAFF TRIALMASTER EDITION STATION WAGON
The Belstaff Trialmaster edition Station Wagon is the perfect match for the extreme Albanian off-road terrain. All the capability of the Grenadier, plus added performance thanks to this special edition's extra features.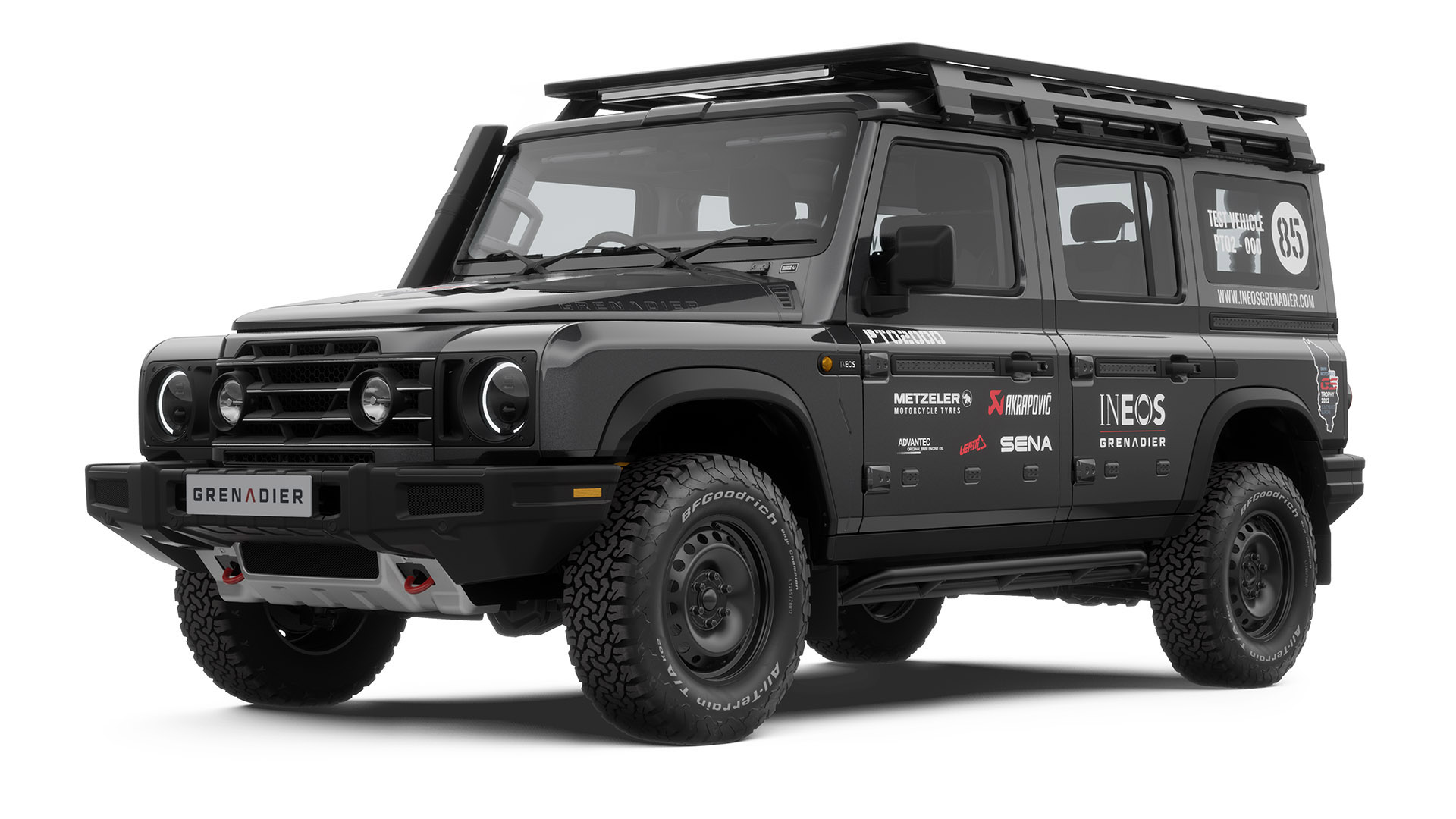 side-by-side comparision
the grenadier vs the bmw R1250 Gs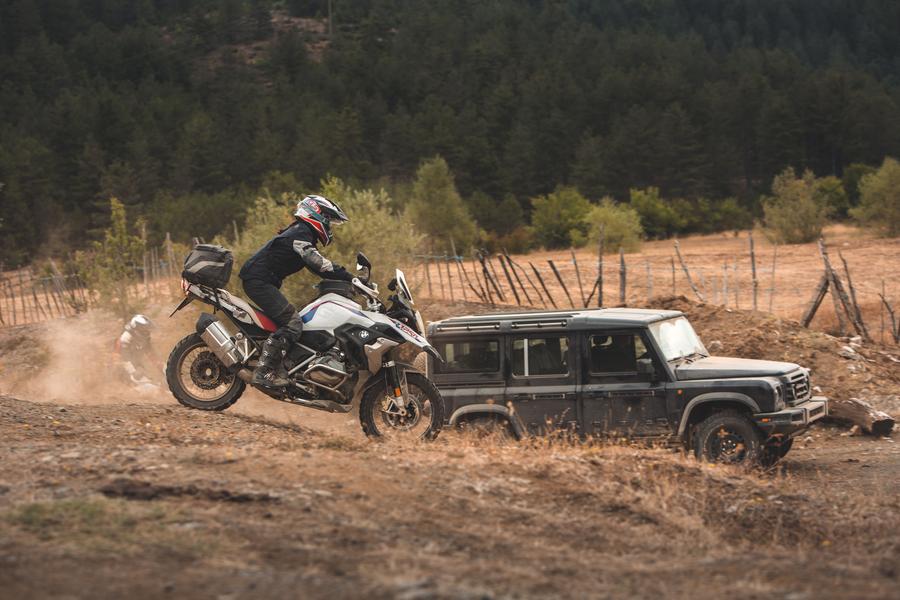 Every GS Trophy rider uses the same bike – the BMW R1250 GS Trophy Competition. How does our capable off-roader compare? The tough terrain both are designed for means they share common ground.
Suspension
Grenadier – Coils. Heavy-duty dampers. Progressive spring curve. All helping give a smooth ride on Albania's extreme uneven ground. Even fully laden with kit for the arduous seven-day event.
R1250 GS Trophy Competition – Beach sand. Mountain tracks. River crossings. Riders will be able to change damper settings to match the event's varied terrain. And engage 'Enduro Pro' mode for the most demanding off-road areas.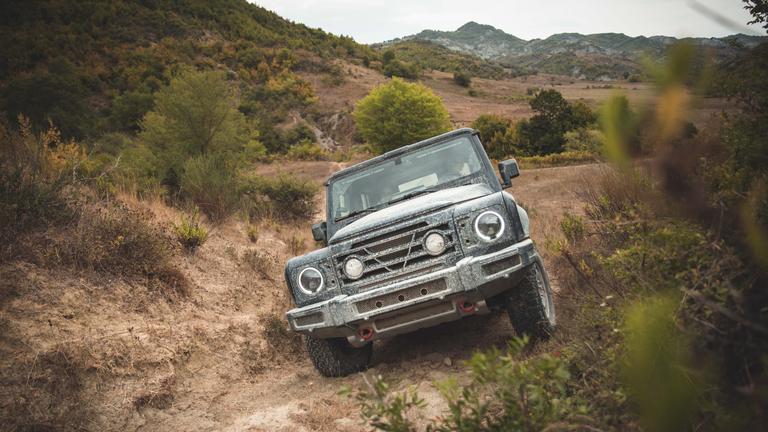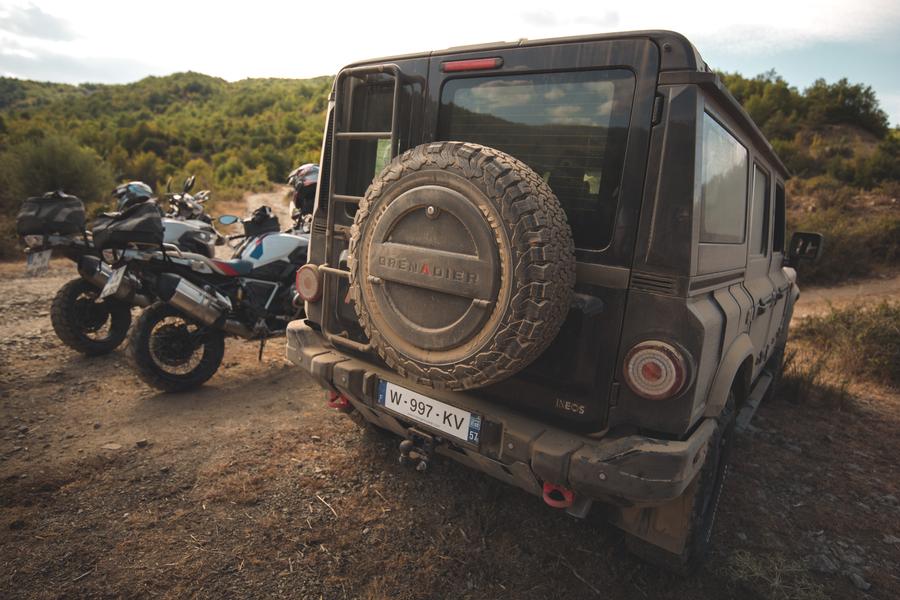 Grenadier – This extreme off-road adventure calls for BF Goodrich KO2 tyres. Fitted as standard to the Belstaff Trialmaster edition Grenadiers taking part in this event, their aggressive tread will help our drivers find extra off-road grip. 

R1250 GS – The Metzeler Karoo 4 tyre is designed to provide excellent traction on and off road. With exceptional grip, even in dry, loose, and dusty conditions. Its anti-mud clog tread pattern also helps with river crossings.  
Protection
Grenadier – Robust underride protection as standard. Front and rear skid plates, plus fuel tank protection. Rock sliders provide extra protection for the bodywork.
R1250 GS – Enduro engine protector, headlight protector and engine protection bar help guard the bike while off-road.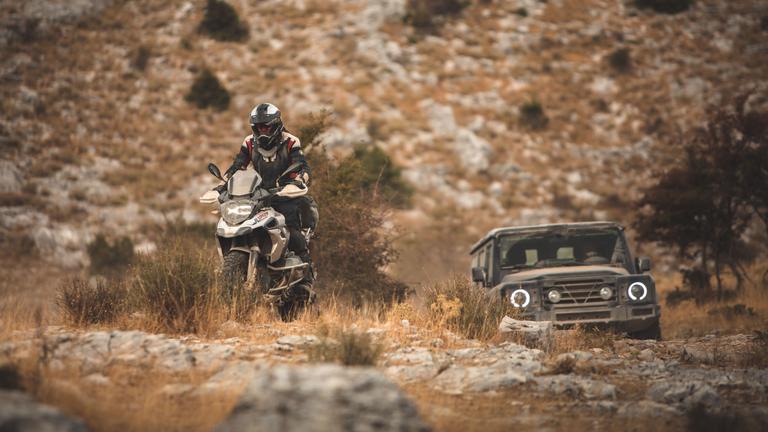 HOW WE GOT HERE
THE ROAD TO ALBANIA
The Albanian GS Trophy route will be challenging. But the road to get to there hasn't been easy, either. For riders. For drivers. And the Grenadiers providing crucial support.
14 regional qualifiers were held around the world. Testing riders' off-road skills, as well as their navigation and teamwork abilities. Only 57 of the world's very best enduro riders were selected to take part in the GS Trophy. Representing 15 countries.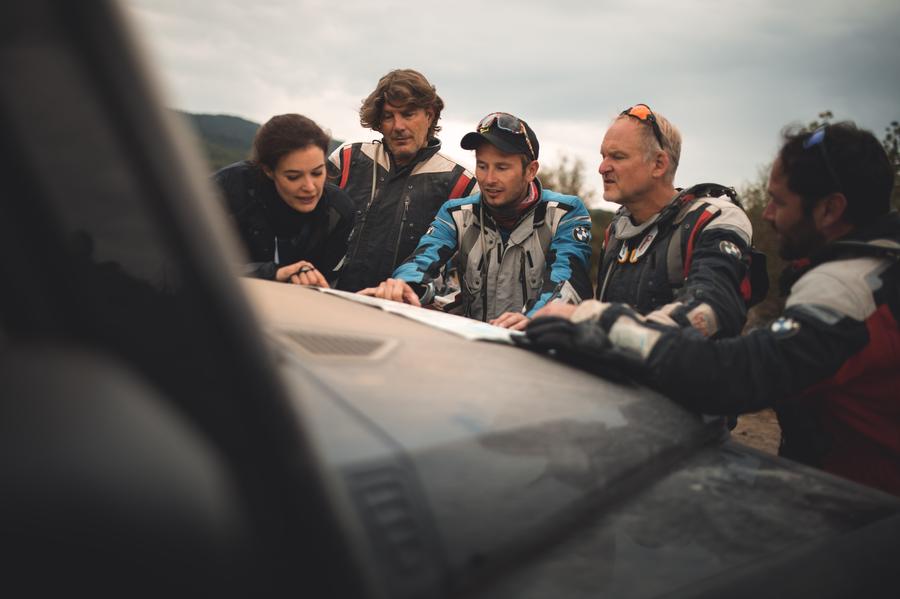 With teams and riders depending on Grenadiers for support, it's vital their professional drivers are fully prepared. So in July, they took part in a two-day course with three important components. Albania-specific off-road driving skills. Grenadier familiarisation. And a briefing on the GS Trophy event itself. The drivers will be as ready as their vehicles for the off-road challenges ahead.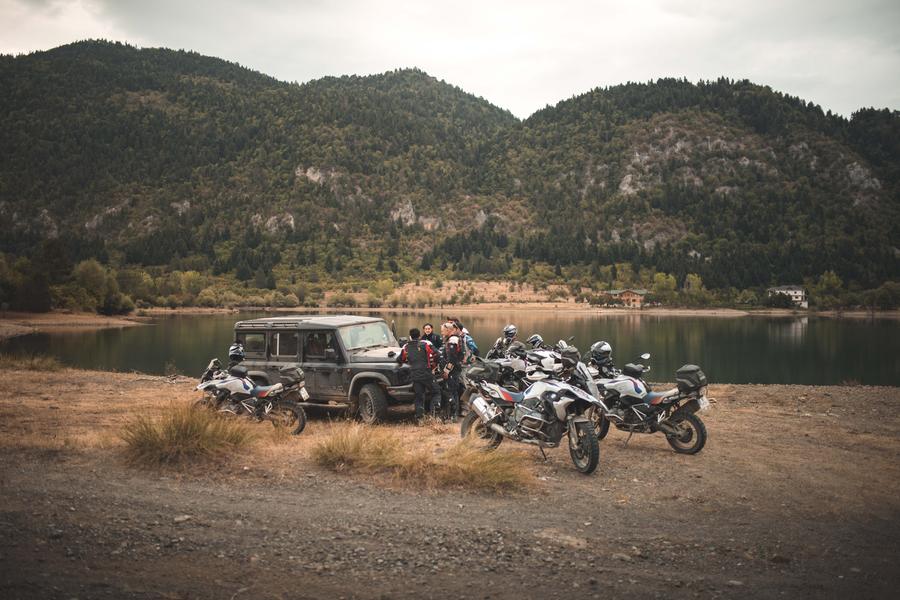 A 1,700 km road trip from Stuttgart to Albania will see the Grenadiers make their way through Austria, Slovenia, Croatia, and Montenegro.