Interior design story
Coming soon
Manufacturing and prototype assembly
Coming soon
Distribution, servicing and repairs
Coming soon
Testing in plain sight
Coming soon
Designed to work
Our philosophy since day one: function over form, every time. That's why we've taken an engineering-led approach to the exterior design, following in the tyre tracks of history's most iconic 4X4 utility vehicles.
This is an off-roader that's got capability at its core. Of course, we care how it looks, but we're more concerned about how it works. That's why every decision has been made with practicality in mind.
Meet the designer: Toby Ecuyer
There's nothing typical about the way we're building the Grenadier. And there's nothing typical about the man who's designed it. Toby Ecuyer combines a passion for the automotive industry with a background in product design. His role has been to compliment the work of our engineering team, without compromise.
Meet a 4x4 you can lean on
Boxy. Strong. With a stature that stands tall on any terrain, so you'll be confident you can get the job done. We know you've been looking forward to seeing what the Grenadier looks like. Well, here it is. From the front bumper you can sit on to the rear-mounted spare wheel.
Lead the way
Grenadier is coming. Sign-up for the very first look at our latest updates, exclusive content and the chance to order before anyone else.
Likewhat yousee?
Secure your chance to order first.
Rear doors
The Grenadier's rear doors are a 70/30 split of the back of the vehicle and open independently. That means you can quickly load and unload smaller tools, while also being able to open both doors for maximum access. Mounting the spare wheel on the back maximises ground clearance.
Wheel positioning
The Grenadier's wheels are as close to the corner of the vehicle as possible, with very little overhang at the front and rear. That means you get the approach and departure angles needed for off-road performance.
Instantly recognisable
The Grenadier has been designed rather than styled. It combines practicality and purpose with unmistakeable character. From the no nonsense boxy body and exposed hinges to the iconic circular lights.
"We've considered every square millimetre."
Toby Ecuyer, Head of Design
Image gallery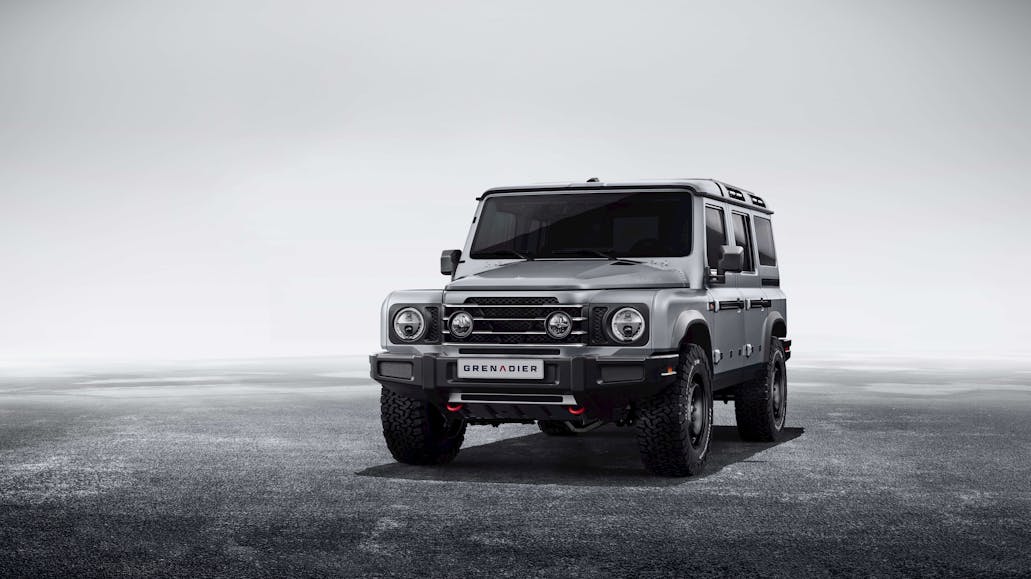 Everythingforareason
Every decision we've made is based on purpose, so you can go where you need to go. And do what you need to do. We're making a real, robust off-roader. Not a soft-roader.